Perhaps it's time that we look at alternatives to decide the outcome of the situation in Glendale.
Instead of a battle between a watch dog group and a rich Chicago businessman, which really will only result in costly legal fights, it's time to go back to basics.  We need to have this decided in the only way that makes sense, namely; Mascot vs. Mascot.
Yes, it's time for Benny the Jet to take on Howler the Coyote.
Tale of the Tape: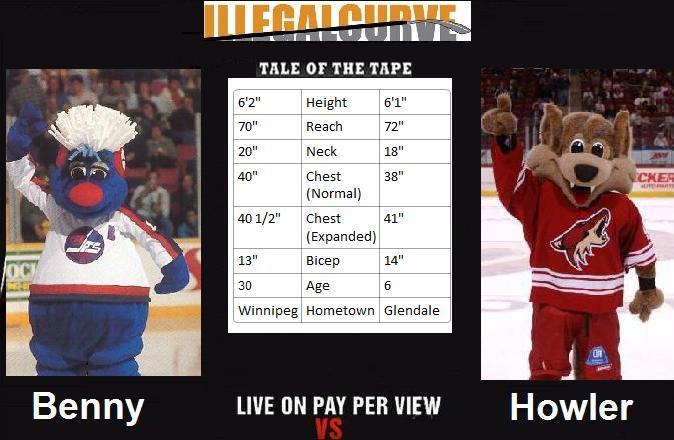 Mascot History (courtesy of Wikipedia):
Benny: was the mascot of the former Winnipeg Jets. He was named in honour of both Ben Hatskin, the first owner of the Jets, and Elton John's "Benny and the Jets."  He wore a B on the front of his jersey, in the spot where a C for captain or A for alternate captain would otherwise go.
Howler: is the mascot of the Phoenix Coyotes. The Number 96 on his sweater represents the year the Winnipeg Jets moved to Phoenix.   He Wears a "M" Designation for Mascot.  He was introduced on October 15, 2005.   He is known to beat on a bucket to encourage the fans to cheer, and has many different outfits in games.
Weapons:
Benny:  Spikes on head.
Howler:  Sharp canine teeth.
Famous Fans/Relatives:
Benny:  Sir Elton John, who still to this day, can be found singing about Benny & the Jets.
Howler:  Distant cousin to Wile E. Coyote, who like Howler, is known for having chased Roadrunners out of town.

Odds:
Illegalcurve's famed gambling expert Ari Baum-Cohen was consulted and he currently has Benny as the 2:1 favorite.  When asked why this was, Baum-Cohen said "going with age and experience over youth".  Additionally he said "Benny disappeared when the Jets left in 96′ and rumors have it that he has been training for the day when he gets a chance to welcome an NHL team back to the city!" (cue Rocky Music).

So who do IC's readers think will ultimately prove victorious in this battle of Mascots?  What are the odds that Mick E. Moose decides to throw himself into the ring WWE style and turn this into a free for all?  Stay tuned to IC for all your Desert Hockey News (both real & parody).