When I speak with players on the Manitoba Moose a common theme of our conversation is the playoff like mentality of this team that they have had since the Christmas break.  Entering that short period of time during the Christmas holidays when the AHL flips from the light jerseys at home to their dark ones this Moose team was sitting dead last in the AHL and it looked like a lost season.  Obviously individual development of Jets prospects would continue but from a collective team playoff perspective this seemed like it was out of reach.
A major reason for the Moose even being able to consider making the playoffs quite frankly has been their play at Bell MTS Place.  After going 6-8-0-0 in the first 14 games at home they've gone 16-2-1-1 in the last 20 contests here in Winnipeg.
This really has been a collective team effort from the coaching staff to the players.  If you look at scoring the top Moose producer is Seth Griffith who sits 46th overall in the AHL scoring race while Logan Shaw's 25 goals puts him 20th in the league in that category.  As a team the Moose sit 30th overall with just 169 goals to date although as you would expect that output has increased during this run.  A number of factors merit mention including the play of Eric Comrie in net, the addition of Mikhail Berdin in a backup role, a six-man D unit who are playing with a lot of confidence and balance among the four forward lines.
Despite the long odds when I would speak to the players or coach Vincent all agreed that they had hit a reset on the season at that point in time.  And it was easy to understand as the team was finally getting healthier as well as having players returned to them from the Jets but despite these positive developments it would take a remarkable run to get back into the playoff conversation.  Their Achilles heel was their play away from this province as they did not have a lot of success outside of Bell MTS Place (9-17-3-1 before this five-game road trip) but they'd have to get that turned around considering eight of their final 12 games of the regular season were on the road.
With two wins in the first couple of games of this five-game road trip it appears they have turned what was a negative into a positive.
Since a 4-0 win on December 30th in Winnipeg over the Colorado Eagles and ending last night with a 3-2 OT win over those same Eagles in Colorado this Manitoba team has gone 22-11-2-2 which meant the team improved to 33-27-4-2 on the season which is good enough for the 4th and final playoff spot in the Central Division.
Just to illustrate how tight the standings are in the Central:
4. Moose 72 pts (66 games)
5. Rockford 72 pts (67 games)
6. Milwaukee 71 pts (67 games)
7. Texas 71 pts (68 games)
The Moose have 10 games remaining (six on the road and four at home) including a massive tilt with the Stars in Texas on Wednesday night.  They thereafter conclude this road trip with two games against San Antonio.  They will return to Bell MTS Place for four games (two against Bakersfield and two against Stockton) before concluding the regular season on the road with a game in Grand Rapids and then two against Chicago.
So by no means is anyone tossing a 'mission accomplished' banner across the Moose logo at Bell MTS Place but this Manitoba team has been simply remarkable in their quest for a playoff spot and you'd have to think they won't be an opponent any teams will want to face in the first round of the playoffs considering they've been in playoff mode already for three months.
As always stay tuned for the latest Winnipeg Jets and Manitoba Moose news by keeping it locked to our web site illegalcurve.com and on social media including Twitter | Facebook | Instagram.  You can also follow me on twitter as well (@icdave).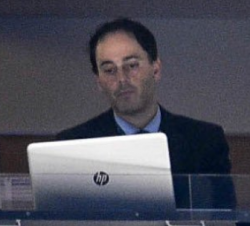 Latest posts by David Minuk (see all)