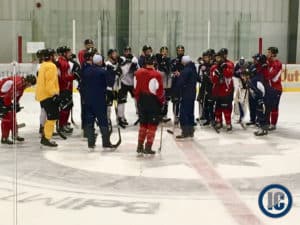 The Skinny:
The Moose hit the ice today after a day off on Monday following a three-game road trip in Texas.  The Moose find themselves at the bottom of the Central Division standings looking up but the good news for the AHL squad is they have games in hand and they play six straight at Bell MTS Place.  While there is still plenty of season left to go now is the time to start making up some ground.
Health News:
One thing you'll notice about these Moose is that more familiar faces have returned to the lineup.  At one point they had nine players injured and two recalled and that number has decreased as players like JC Lipon, Seth Griffith and Skyler McKenzie have returned to the lineup.  Another familiar face we saw back on the ice today with his teammates for the first time since he was injured back on November 23rd was Tucker Poolman who was wearing a non-contact uniform.  Following skate today I asked coach Vincent for an update on his remaining injured players and here is what he had to say:
Tucker Poolman: "He passed his test.  Today was non-contact, tomorrow will be contact.  He's going to do the morning skate (Thursday), practice Friday and hopefully he's a player Saturday if everything goes according to plan."
Ryan White:  "He's going to practice non-contact tomorrow.  He's going to do that for a little while so maybe the next week.  We'll start with tomorrow non-contact."
Luke Green:  "Day-to-day.  Still IR skating so I don't have a set date but the report I have is day-to-day."
Emile Poirier:  "Probably three to four weeks from now.  Mid February is a target we are aiming for."
C.J. Suess:  "We're talking about months here.  It might be the rest of the season I don't have a set date yet."
Up Next:
The Moose will practice again on Wednesday at the IcePlex at 10:30 am as they prepare for a pair of games against the Laval Rocket starting Thursday night at Bell MTS Place.
As always stay tuned for the latest Winnipeg Jets and Manitoba Moose news by keeping it locked to our web site  illegalcurve.com and on social media including Twitter | Facebook | Instagram.  You can also follow me on twitter as well (@icdave).