Pre-Game Note:
The Moose re-assigned Jacob Cederholm and Justin Woods back to the Icemen.
Moose Lineup:
Dano-Spacek-Lipon
Pedersen-Shaw-Griffith
Harkins-Girard-D'Aoust
Fejes-Reichel-McKenzie
Stanley-Nogier
Schilling-Stoykewych
Oligny-Beaudoin
Comrie
Appleby
Gameplay:
– The Moose opened the scoring thanks to Cam Schilling's first goal of the season;
– A nifty no-look pass by Jansen Harkins set up Alexis D'Aoust for his fifth goal of the year and a 2-0 Moose lead;
– Kristian Reichel gets taken out (off balance as he reached for a puck) into the boards and a melee ensued;
– Moose got the benefit of a quick whistle on a puck Comrie appeared to have covered (Laval put it into net);
– 1st period ended 2-0 for the Moose who held an 11-10 shot edge after 20 minutes.
– The Rocket were more aggressive in the middle frame out shooting Manitoba 11-7 but still couldn't beat Eric Comrie;
– Not a particularly exciting period and it ends with the home side maintaining their two goal lead.
– Rocket had some chances to get back into the game but couldn't beat Comrie (even when it looked like they had);
– Lots of bad blood which seems odd considering these teams rarely face each other;
– Logan Shaw was hurt, initially went to the bench but then left for the room;
– Another disallowed Rocket goal (this was the right call);
– Jansen Harkins fired it as he approached centre ice into the Rocket empty net to make it 3-0;
– Late in the game (23.1 seconds left) Marko Dano scored to make it a 4-0 contest.
Notable:
– That was Eric Comrie's second shutout of the season (and second in last five games);
– Jansen Harkins had 1G 1A;
– Veteran D man Cameron Schilling scored his first goal of the season;
– Michael Spacek added to his team leading assist total(19).
– After Marko Dano went goalless in his first 9 games with the Moose he has three goals in his last five games;
– Eric Comrie has a .921 save % (which is 4th best in the AHL)
– Comrie has faced the most shots in the AHL this season (769) which averages to 33.4 per game.
Audio:
Jansen Harkins
Eric Comrie
Coach Vincent
Health News:
Following the game coach Vincent didn't have an update on Logan Shaw who left the game in the 3rd period.
Up Next:
The Moose are set to practice at the IcePlex 12 noon on Friday as they get ready for a re-match with the Rocket at Bell MTS Place on Saturday night.  Be sure to start your day with the AM papers at 7 am on illegalcurve.com.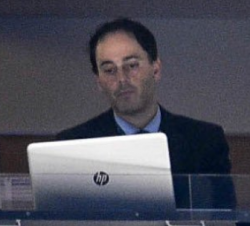 Latest posts by David Minuk (see all)