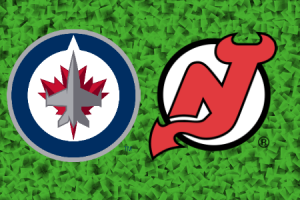 An interesting game to say the least.  Jets fought back from a 2-0 deficit in the 3rd period to tie the game on an interesting Jim Slater goal.  Interesting as almost all the Devils on the ice thought the Jets had taken a hooking penalty.  Unfortunately, after being outshot 5-0 in OT (due to an Evander Kane penalty late in 3rd period), Adam Henrique was able to get a breakaway and win it for the Devils.  While he wasn't nominated as a star of the game, Pavelec was outstanding once again for the Jets.
Here are some additional recaps:
Winnipeg Free Press:  Devils break Jets hearts in overtime.
Winnipeg Sun:  Jets drop 3-2 overtime decision.
Globe and Mail:  Jets fall to Devils in overtime.
Northjersey.com:  Devils beat the Jets in OT.
Star-Ledger:  Adam Henrique scores in OT to lift Devils to 3-2 victory.
NHL.com:  Rookie Henrique lifts Devils past Jets 3-2 in OT.
Three Stars:
1st:  Adam Henrique
2nd: Jim Slater
3rd: Patrik Elias