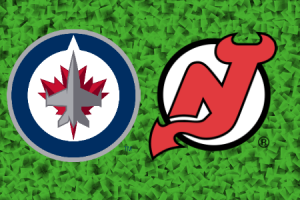 Final Score: Devils 5 Jets 1

Game Stories:
Winnipeg Free Press:  Devils cruise to 5-1 victory.
Winnipeg Sun:  Devils dismantle Jets.
Globe and Mail:  Kovalchuk's pair lift streaking Devils past Jets.
CBC:  Kovalchuk, Devils crush Jets.
Star-Ledger:  Devils fly by Winnipeg.
NJ.com:  Kovy scores twice as Devils beat Jets.
TSN:  Jets lose momentum at the hands of the Devils.
NHL:  Kovalchuk's pair helps Devils knock off Jets.
Video Highlights:

NHL.com – 3 Stars:
1st:  Ilya Kovalchuk
2nd:  Patrik Elias
3rd:  Petr Sykora