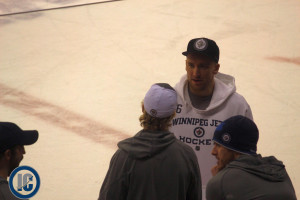 The Jets won't hit the ice today for game day skate as they played last night.  The lines are expected to remain the same as last night unless Tobias Enstrom is healthy enough to draw in (Update from Ed Tait of the Winnipeg Free Press via coach Maurice's pre-game scrum: No Enstrom tonight).  We should have a clearer picture around 4:30 pm when coach Maurice addresses the media.
Ladd-Little-Frolik
Stafford-Scheifele-Wheeler
Perreault-Lowry-Stempniak
Tlusty-Slater-Thorburn
Chiarot-Myers
Stuart-Trouba
Pardy-Harrison
Pavelec
Hutchinson.
Jets pre-game audio:
Coach Maurice – How key is discipline against the Blues?  Any worry about a drop off in the second game of a back to back.  Update on Enstrom?  Update on Clitsome.  His thoughts on what the bottom six have been able to do.  How does the team's depth measure up?  Is tonight a good match for the Jets?  Easier to go back-to-back with the relatively short travel schedule?    
Andrew Ladd – His expectations of the Blues.  On the Jets philosophy.  Dangerous to look ahead; is it hard to stay in the moment?  Does he like the way the team is handling the pressure?  On being compared to the LA Kings by Blues coach Hitchcock.  On being disciplined against the Blues.  How comfortable are they with their spot in the standings?  
Audio courtesy of TSN 1290 Winnipeg.
The Blues lines come to us from Jeremy Rutherford of the St. Louis Post-Dispatch:
Schwartz-Stastny-Oshie
Jaskin-Backes-Berglund
Jokinen-Lehtera-Rattie
Ott-Goc-Reaves
Gunnarsson-Pietrangelo
Bouwmeester-Michalek
Jackman-Shattenkirk
Allen
Elliott