Much like the game on Tuesday there are question marks heading into tonight's game against San Jose. Mark Scheifele, Nikolaj Ehlers and Paul Stastny all didn't take part in practice on Wednesday although head coach Paul Maurice didn't seem too concerned.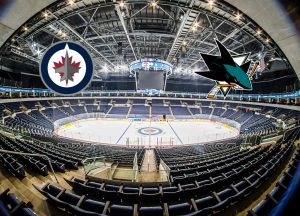 Morning skate:
As per Scott Billeck of the Winnipeg Sun no Paul Stastny at today's morning skate but that Mark Scheifele and Nikolaj Ehlers are skating. He confirmed that Paul Maurice will use the same lineup as last game.
Jets projected lines & D pairs:
Connor-Dubois-Svechnikov
Harkins-Copp-Ehlers
Lowry-Scheifele-Wheeler
Toninato-Nash-Vesalainen
Morrissey-Schmidt
Dillon-Pionk
Stanley-DeMelo
Hellebuyck
Comrie
Players media availability:
Coach media availability:
Topics:
1) Lineup for tonight?
2) Update on Stastny?
3) Using the Lowry/Scheifele/Wheeler line in a defensive role (:31)
4) How the 17/55/26 line is producing (1:14)
5) Assessment of the Sharks (2:59)
6) Are there similarities between this Sharks team and Jets from a few years ago? (4:01)
7) On managing whatever Mark Scheifele is dealing with (5:10)
8) Is there a way he can take advantage of teams going through growing pains Jets previously experienced? (6:03)
9) Getting better forward coverage (7:35)
10) Has the adjustment to pressure changed over the years? (9:19).
Up Next:
Puck drop is at 7 pm CDT.  Be sure to head over to illegalcurve.com following the game for a recap of the action which includes post-game interviews from Jets players as well as from head coach Paul Maurice.  You can also join us afterwards for our post-game show here (be sure to smash that like/subscribe button).