The Skinny: The 11-16-2-0 Moose played host to the 15-10-3-1 Colorado Eagles – AHL affiliate of the Colorado Avalanche. Fresh off the holiday break, the Moose got a big boost to their forward group, welcoming back top-6 forwards Seth Griffith and J.C Lipon in time for this matinee affair. Eric Comrie got the start, looking to improve his 8-9-1 record.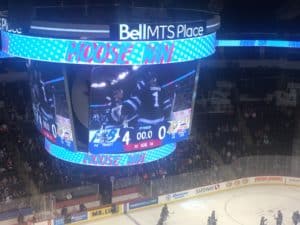 Moose Lineup:
Dano-Spacek-Lipon
McKenzie-Shaw-Griffith
Harkins-Reichel-D'Aoust
Pedersen-Girard-McGinn
Schilling-Niku
Stanley-Nogier
Stoykewch-Beaudoin
Comrie
Appleby
Scoring Summary
First Period
Manitoba Goal: Sami Niku guided the puck through the neutral zone and fed Skyler McKenzie, who took the puck over the Eagles' blueline, dragged the puck to his backhand around an Eagles' defender, and slid the puck on his backhand through the wickets of Spencer Martin to put the Moose up 1-0.
Second Period 
Manitoba Goal: Off an offensive zone faceoff win, Jansen Harkins picked up the puck, came across the slot and fired a wrister blocker side which beat Martin just over the right pad, putting the Moose up 2-0.
Manitoba Goal: On their first powerplay of the game, Seth Griffith held the puck at the right faceoff dot and made a terrific no-look pass to Logan Shaw, who one-timed a snap shot low-blocker side to extend the Moose lead to three.
Third Period 
Manitoba Goal: After a miscue behind the net by the Eagles' goaltender, Kristian Reichel picked the puck up behind the net and fed Brent Pedersen, who squeeked the puck through Spencer Martin for his first career AHL goal, giving the Moose a commanding 4-0 lead.
Prospect Watch
Manitoba
#23 Michael Spacek – always slick on the powerplay, he showed quick hands and slick passing to help keep the play moving, and had a bit of chemistry with Marko Dano at even-strength. Although he didn't get on the scoresheet, he remains tied for second on the team in scoring with 18 points through 28 games.
#26 Jansen Harkins – he made a mark today, scoring his first goal in 9 games on a very nice wrist shot, and looking incredibly relieved immediately afterwards. Aside from that his game was pretty quiet, playing on a depleted third line that's still missing some talent with C.J Suess and Emile Poirier still injured.
#43 Skyler McKenzie – he got the team on the right path today, scoring just 37 seconds into the game with nice hands. He was in the thick of the action all game, using his speed on the forecheck and being disruptive with his "truculent" style. Now in the top-6, his impact on the game grows with each passing shift, as he takes advantage not only of the extra minutes, but of better linemates. Expect his stats to climb if he can cement a role in the top-6 – he's at 4 goals and 8 points through 22 games, but played the first 21 primarily on the 4th line, and with no powerplay time until today.
#7 Logan Stanley – always visible due to his 6'7 frame, Stanley continues to take on big minutes, and play in all situations – top-4 at even-strength, top-pk, and even 2nd pp minutes. His quickness continues to be a challenge, but his top speed and edgework is fine, and his hockey sense isn't an issue now that he's adjusted to the pace of the AHL game. He unleashed a "heavy" shot on the powerplay today which just went wide – a future weapon to be sure. He took a hooking penalty early in the game, but otherwise was blameless on the defensive side.
#8 Sami Niku – a  very strong game today, controlling the puck with his skating, making good outlet passes, running the powerplay effectively, and helping creating the game's first goal with a nice rush through the neutral zone. With two assists in the game, he moves his season totals to 10 points in 17 games. With Dustin Byfuglien's extended absence, will he get a call-up?
#36 Nelson Nogier – another quiet game for the defensive defenceman. No obvious mistakes made on his part, but with 1 point in 28 games, he's not one to make an impact on the score sheet.
#1 Eric Comrie – a brilliant performance for the third-year goaltender today, saving all 38 shots he faced en route to his first shutout of the season. He was incredibly solid and well-positioned, and made a couple of tremendous saves too, including a desperation left-pad save where he had to move swiftly across the crease. He moves his record on the year to 9-9-1, and gets his save percentage up to a respectable .913.
Audio:
Sami Niku
Skyler McKenzie
Eric Comrie
Coach Vincent
Next Game Action:
Monday, December 31 at 4:00 pm, versus the Colorado Eagles at Bell-MTS Place.
Latest posts by Peter Siamandas (see all)