Montreal Gazette:  Coyotes saga seems to have no end in sight.  One way Coyotes fans could shut everyone up.  Show up and support your team which is in 5th (and might be in 4th after game in Edmonton).
Arizona Republic: Glendale mayor delves in Phoenix Coyotes.  The mayor says ; "The team goes, the arena stays, somebody pays.  Tell us where you want the money to come from" and she wouldn't be wrong.  The question it appears for many Glendale residents, is why are they throwing so much money at Hulsizer.  Many, it would seem, aren't against the Coyotes, but the manner in which they are being saved.
TSN:  Glendale could seek minor league hockey team.  It's not a bad option since it would fill the 41 nights that the Coyotes had, although since most AHL games average 5000 it might look a little empty in 17,125 seat Jobing.com arena.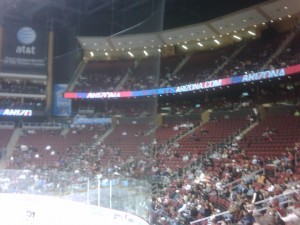 Arizona Republic:  Goldwater Institute robocall urges opposition to Glendale's Phoenix Coyotes deal.  Both sides are preparing for the Court battle and it appears the smear campaign has begun in earnest.
TSN:  Jets Meter.  It moved again.  Up to 13 from 12 yesterday.

Winnipeg Free Press:  102 million reasons to get Coyotes.  Not sure how much longer the 29 owners are going to put up with the "dream" of a HUGE US television contract while continuing to pour money into Phoenix.  And it appears that a franchise in Winnipeg has 102 million reasons why they shouldn't just be considering the Peg' but running to the Peg' with open arms.

Winnipeg Free Press:  Goldwater puts pressure back on Glendale.  Here comes the legalese!!!  Interesting to note the requirements that Goldwater would be required to meet in order to be granted an injunction.