Winnipeg Sun:  Glendale takes 'important step' to NHL solution.  The NHL's silence towards Atlanta is rather ominous.
Globe and Mail:  Glendale continues to go 'all in' on Coyotes.  Mirtle offers his take on last night's proceedings.  Not sure about you but so far Little Logan Wade making an appearance was my highlight of the night.

TSN: Dreger Report.  Can you say another year of waiting?  If that is the case a lot of the momentum that has built up in favor of NHL hockey will cease.
If not, True North will go about its business, biding time, while working with the NHL on the potential of a relocation opportunity for the 2012-2013 season and a real possibility either Phoenix, Atlanta – or both – will still be the primary targets.
Atlanta Journal Constitution:  Arizona votes to keep Coyotes for another year.  Not the news fans of Atlanta wanted to hear.  Now they can expect a lot more attention coming.
Columbus Dispatch:  Blue Jackets lose 25 million last season.  Oh boy, are we about to add a team to the above title?  Desert, Dixie and __________?
TSN:  Jets meter falls to 28.  Since it was at 30, not quite as far a drop as I anticipated.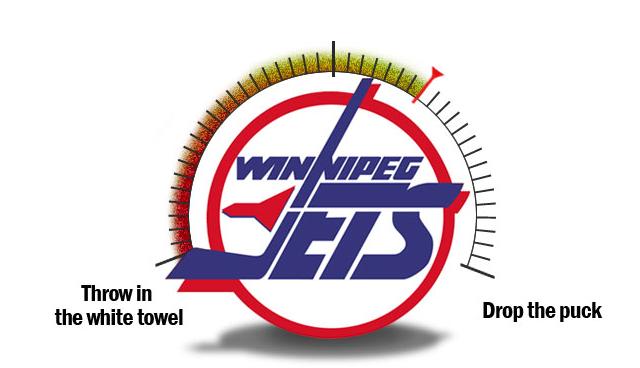 TSN:  Glendale pledges $25  million to keep Coyotes one more year.  Can Winnipeg fans take any more?  Good read from Naylor.
Click read more for additional news links, blogs, video and our tweet of the day.
Winnipeg Free Press:  Council meeting hot ticket.  I don't wanna say I told you so, but I did predict the vote would be anticlimactic and end 5-2. 
Phoenix Business Journal:  Glendale approves another 25 million for Coyotes.  Between Councillor Lieberman's talking about good Italian restaurants and places to get a good kosher sandwich, I must have missed Councilwoman Clark suggesting that the $100 million bond was dead.

Winnipeg Sun:  Coyotes circus pure bush league.  Perhaps one of the concerned citizens from Arizona was right when he compared hockey to horseshoes.
Blogs:
Illegal Curve:  COG Synopsis.  We have a play by play of all last night's festivities if you want a blow by blow accounting.
Puck Daddy:  Glendale approves $25 million to keep Coyotes for 2011-12. There sure were some beauty's at the meeting last night.
Ice Chips (Az Republic):  It's time for rumor mill operators to hit the road.  I would disagree with Jim on one thing he said.  Folks in Winnipeg won't be focussed on the Yotes next season.  Instead he might want to spread his gaze a little farther East.  While Manitoba has a significant % of french speakers, the place whose gaze is going to turn to the Yotes speaks a whole lot of French…and will make Coyote Eric Belanger very happy.
AHL:
Winnipeg Free Press:  Is this the end of an era?  Class organization with class players.  Nice to hear that guys would like to be back in the city, whether it was with an AHL or NHL team.
Video of the Day:

Tweet of the Day: