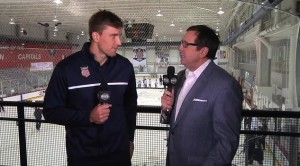 Blake Wheeler has played for Team USA in 2004 at the World Juniors (4th), IIHF World Championships in 2011 (8th) and the Olympics in 2014 (4th).  He has become the most dominant forward on the Jets roster and is currently 13th in NHL scoring (18 goals, 39 assists for 57 points in 62 games).  He is currently in second spot overall among right wingers behind fellow American Patrick Kane in scoring.
Dustin Byfuglien doesn't have the same level of international experience for Team USA as Wheeler but the man known as Big Buff is having another solid season and will be a force on the American back end.  Byfuglien currently ranks 12th overall for defenceman scoring in the NHL with 16 goals and 24 assists for 40 points in 62 games for the Jets.
Current President of the Philadelphia Flyers Paul Holmgren spoke about why Dustin Byfuglien was a good fit for Team USA.
Paul Holmgren
Rest of Team USA roster named today(via NHLPA web site):
G Ben Bishop, Tampa Bay Lightning
G Jonathan Quick, Los Angeles Kings
G Cory Schneider, New Jersey Devils
D John Carlson, Washington Capitals
D Ryan McDonagh, New York Rangers
D Ryan Suter, Minnesota Wild
F Justin Abdelkader, Detroit Red Wings
F Patrick Kane, Chicago Blackhawks
F Ryan Kesler, Anaheim Ducks
F T.J. Oshie, Washington Capitals
F Max Pacioretty, Montreal Canadiens
F Zach Parise, Minnesota Wild
F Joe Pavelski, San Jose Sharks
F Derek Stepan, New York Rangers
The remaining team will be announced in early June.