The Atlanta Thrashers were a dismal 13th place last season, 17 points out of the 8th and final playoff spot.  This is a franchise that has only made the post season once since its inception back in 1999-2000.  Will they be able to continue the success they showed as last season winded down?  Have they done enough this summer to help them get past the status of perennial non-contender or are fans in Georgia going to have to suffer through a long, uninspired winter?  (on a positive note for Thrasher fans is that the winters are quite enjoyable, temperature wise, in Atlanta).  The good news for the Thrashers is that the Southeast Division, unlike the Central Division, has been won by a number of different teams over the last few years.  The bad news is the Washington Capitals are looking like the class of the division, Tampa Bay has improved and Carolina behind a healthy Cam Ward looks to be in contention once again.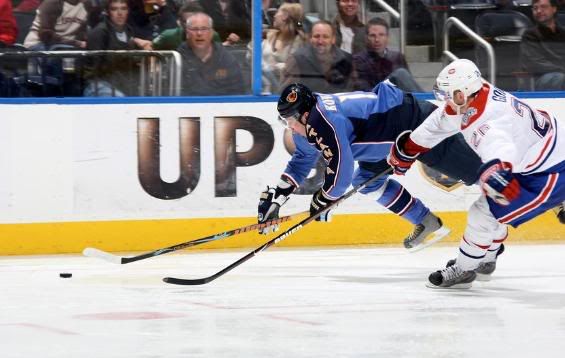 Forwards:
The Thrashers are led by high flying captain Ilya Kovalchuk who becomes an unrestricted free agent next summer.  The good news for Thrashers fans is he seems to score goals regardless of who he is playing with.  The past four seasons he has scored 40+ goals (twice) and 50+ goals (twice).  If the trend of 50, then 40, 50, then 40 continues, this season he should manage to score 50+ goals again this season.  The Thrashers are still looking to sign the star forward to a long-term contract although he has said that he wants to see Atlanta's commitment to winning before he will sign an extension.  GM Don Waddell said "I feel very confident that at some point — I don't know when that point will be — but at some point, we will get a contract done". 
Probably the biggest question marks for the Thrashers forwards isn't whether Ilya can score, but whether he can make the other players around him better and whether Atlanta has enough secondary scoring to make them competitive with the other teams in the East?  Apparently when discussing forwards he would like to see on the team, Kovalchuk said "someone like Antropov" (who he played with during the lockout) and fortunately for him they signed Nik as a free agent.  (Adam Proteau of The Hockey News labeled this the 3rd worst free agent signing).  The expectation is that with Antropov on the right wing, Kovalchuk at left, and the reliable Todd White at center (although he could easily be exchanged for Rich Peverley) this line should produce next season.   Antropov was written off, after he had such a heralded start, and if ever there was a time for Nik to produce, it is now.  Not surprisingly the Thrashers thrived on the powerplay (especially Kovalchuk) finishing 11th last season and with big Nik Antropov in front, they should likely improve in this area.
Looking to the issue of secondary scoring the Falconer over at Bird Watchers Anonymous has made a very strong case for why Colby Armstrong will be the most valuable forward during even strength play.  Slava Kozlov, despite his age, is still an asset.  Brian Little had an excellent sophomore season and it should be exciting to watch as his impressive skill-set continues to develop.  Expectations will be high on Rich Peverley who contributed almost a point per game when he arrived from the Predators last January (Don't expect that pace to continue but he does have some nice offensive skill). 
The general consensus regarding the #4 pick in this past season's entry draft, Evander Kane, is that he will be starting the season with the big club.  He will likely be duking it out for 3rd line, left wing spot.  Expect him to get around 10 games in and unless he proves to be the next Jordon Staal he will likely be sent down for some more seasoning. 
The Thrashers appear to be lacking that powerful second line that can form a deadly one, two punch for Atlanta.  They have some nice role players and until we see how Kane and some of the other young guns develop, the offence will likely not be enough to give the Thrashers the boost they require.
Defence:
The other big acquisition for Atlanta was the team's trade for Pavel Kubina from the Leafs.  At 32 years of age, the 11 year pro was brought in to add some stability and experience to the young Thrasher defence.  While I question his defensive awareness at times, he is certainly an upgrade over some, for the Thrashers' back-end.
The lion's share of minutes would be taken by 24 year old Tobias Enstrom and 19 year old Zach Bogosian.  These two would be followed by Pavel Kubina and Ron Hainsey.  Followed by the final pairing of Boris Valabik and Anssi Salmela.
And what will the primary responsibility of these defenders be?  A number of things; 1) Improving the penalty kill.  Last season Atlanta was second last in preventing power play goals.  (only the Leafs proved more futile).  2) Preventing shots.  The Thrashers stunk in this area last season and it showed as they finished a paltry 27th, averaging 32.7 shots per game against.  Hopefully the steady influence of vets like Hainsey and Kubina will be enough to help the tall task given these young Thrashers defenceman.  However, Kubina and Hainsey are not always the most reliable in their own zone.
Goal:
The goaltending situation hasn't yet been set by the Atlanta coaching staff.  There will be four goalies competing at training camp for three spots.  Kari Lehtonen, who had unexpected offseason back surgery and is recovering is expected to be the number one goalie of the Thrashers.  Lehtonen's save % (.911) was significantly better than Johan Hedberg (.886) and Ondrej Pavelec (.880).  GM Don Wadell surprised Thrasher fans by adding Drew MacIntrye, a proven AHL commodity.  Now Lehtonen is signed to a one year ($3 million) deal, which is likely a test to see if he can stay healthy (the most NHL games he's played was 68 back in 2006-07) and keep the Thrashers in the playoff hunt.  The other three netminders will be playing for the role of back-up.  If the defence can prevent the millions of shots that Thrashers goalies are subjected to and Lehtonen can remain healthy, the goalie position could be the real wildcard for Atlanta next season. 
My Predictions:
Ceiling– If the stars align and Kovalchuk clicks with Antropov, the defence plays above its head and Lehtonen stays healthy and remains effective, I wouldn't be surprised to see a third place finish in the Southeast Division and an 8th-10th finish overall in the Eastern Conference.
Floor– The Thrashers are likely a few good drafts choices away from really competing as an elite team in the NHL.  If the defence is given time to develop and Lehtonen can establish himself as the unequivocal #1, these guys will be able to challenge for the Southeast division title and could make waves in the playoffs.  However I just don't think they currently possess enough firepower to compete with teams like Washington, Pittsburgh and Carolina.  So if I had to predict a finish for Atlanta it would be anywhere from 12th-15th in the East.
Thrasher Blogger Predicition:
In addition to the above analysis I thought it would be a good idea to get a quick thought from Thrashers bloggers.  These guys follow Atlanta through the ups and downs of each season, so who better to get a quick hit from them then?
the Falconer from Bird Watchers Anonymous said:
"Should compete for the playoffs and if they stay healthy qualify. Finished 9th in goals scored last season and could finish even higher this year with Antropov replacing unproductive Jason Williams/Erik Christensen.  The critical factor will be the goals allowed.  The Penalty Kill was a disaster zone last season.  Defense should be better with Kubina for Exelby swap.  If the Kovalchuk line can spend more minutes in the offensive zone that will aid the defense considerably."
Aaron from Blueland Outsider said:
"Two points of definition for this years' Atlanta Thrashers: chemistry and defense.  The 08-09 Thrashers didn't click until the last 26 games of last year when they went on a tear of 16-9-1 to end the season. In the run was a pretty amazing (for the Thrashers, anyway) 9-4-0 home record. If they can keep that chemistry alive, the rest of the East needs to watch out. Offense was never the problem – Atlanta finished 7th overall in Goals For. What killed them last year was a total and utter abandonment of anything that even remotely resembled defense. At the beginning of the year, the Atlanta defense looked pretty solid: Schneider, Hainsey, Enstrom, Havelid, Exelby and some kid named Bogosian. This year, three of those names are missing, and Pavel Kubina has been added. Will the D rise up? Or will our goalies look like they just left the wrong end of the shooting range? Only time will tell…"
For a more expanded thought on why the Thrashers will do better this season, be sure to read Aaron's latest article, Four Reasons the Thrashers will do better this season".
Lisa from The Thrashers 411 said:
"With the new acquisitions & returning players, I am excited to see how well they come together as a team this season.  With the way the Thrashers ended the season so strong, this has given all Thrashers fans a new sense of optimism.  With the mix of young talent and veterans on the team look fr the Thrashers to have a breakout season."