Note:  Normally these links would be included with the Winnipeg Jets Morning Papers but I felt they required a separate post.
Papers:
Winnipeg Free Press:  The Kane saga.  Gary doesn't leave anyone out from blame in this pretty scathing piece.  Really good read.
Winnipeg Free Press:  Calamity Kane.  Ed details the relationship that Kane has had with folks both on his team and in the city.
Winnipeg Sun:  Kane had run-in with teammates.  Paul breaks it down from a slightly different angle.  Discussing the incident with an NHL executive who is surprised that the team thought they could keep this quiet.
Winnipeg Sun:  We all have a standard that we must live by.  Lots of talk of conformity by Kane's teammates as they appeared to close ranks.
Sportsnet:  Where do Kane and the Jets go from here?  That is the question on everyone's mind and Elliotte Friedman weighs in with his thoughts.
Sportsnet:  Kane skipped game after incident with teammates.  Just when it seemed like our day was getting back to normal Chris had to go and break this news.
TSN:  More questions arise in Kane-Jets drama.  Hockey Insider Bob McKenzie shares these thoughts on the Kane situation.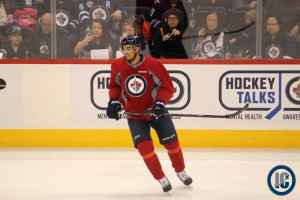 CBC:  Evander Kane missed game after incident with Byfuglien.  As was being discussed across the NHL it is quite surprising that this much information became public.
Globe and Mail:  Kane's days appear numbered as the forward transitions to Jets' misfit.  Plenty of opinions as to what is happening here in the Peg' and what might happen to bring this situation to a conclusion.
Sportsnet:  Price on Evander Kane has dropped.  Which is why some wonder if GM Kevin Cheveldayoff's will make any move at all since the value of Kane as an asset has dropped so significantly.
ESPN:  What's Evander Kane's trade value?  Scott Burnside and Craig Custance debate the value of the 23 year old.
The Hockey News:  Top five trade destinations for Jets star Evander Kane.  Adam Proteau gives you his thoughts on where he thinks Kane could end up.  Four of the five are in the East and I think that it should probably be five of five because I don't see the Jets sending anywhere in the Western Conference.
CSN New England:  Bruins should take a pass on Evander Kane.  We already have folks advocating against trading for the young winger.
Audio:
TSN 1290 Winnipeg:  Hustler & Lawless.  Lawless says the reported altercation was an act of disrespect to Kane, one that probably set Kane off. Lawless thinks Kane should be traded, likely in the summer, with depressed value due to recent events.
TSN 1290 Winnipeg:  The Big Show.  Shane Hnidy joins The Big Show to discuss the decision making process behind making Evander Kane a healthy scratch and why Kane showed signs of disrespect towards head coach Paul Maurice dressing in a track suit before Tuesday's game in Vancouver.
TSN 1050 Toronto:  Drive with Dave Naylor.  With all the controversy surrounding Evander Kane, Darren Dreger joins TSN Drive to discuss the latest with the Jets and the Maple Leafs.
TSN 1050 Toronto:  Drive with Dave Naylor.  Bob McKenzie discusses Evander Kane's off ice behaviour, his chemistry in the locker room, and Kane's potential landing spots.
TSN 1050 Toronto:  The Bryan Hayes Show.  Hockey Analyst Aaron Ward joins Bryan Hayes to share his feelings on the Kane situation.
TSN 1050 Toronto:  Leafs Lunch.  TSN Hockey Analyst Ray Ferraro joined Leafs Lunch to discuss which players who could be moved at the NHL Trade Deadline, diving penalties in the NHL and Evander Kane. (starts at 18:40 mark).
Video:
TSN:  Insider Trading.  The Insiders weigh in on which teams would be in a position to inquire about Evander Kane's availability, the Maple Leafs' traction in the trade market and who will run Team Canada in 2016.
Sportsnet:  No doubt Kane is on the market (video).  Jeff Marek, Bill Jaffe and Doug MacLean discuss the latest on Evander Kane including what a potential price tag could be for the winger.
Sportsnet:  Tim and Sid: Tracksuit-gate a welcome distraction for the Jets?  Sportsnet's Sean Reynolds talks with Tim and Sid about the Jets' locker room atmosphere, and how "Tracksuit-Gate" may be a welcome distraction.