After Wednesday's barn burner against the Texas Stars ended in a 7-6, shootout defeat, the Moose opened a new two-game series against the Chicago Wolves in a matinee affair at the MTS Centre. With a 1-5 record against Chicago this season, including an 8-2 thrashing in December, the Moose were looking to save face in the season series. It was also a special, "retro" day at the MTS Centre, as the Moose dawned the original Moose jerseys from the 1996-1997 season, and added 90's tunes, organ, and other touches to make it feel like 1996.
First Period
Off a zone entry by J.C Lipon, Austen Brassard fed the puck into the slot for John Albert, who was in all alone and put a great shot off the right post and in. 1-0 Moose.
On a 5-on-3 powerplay, the Moose worked it around the outside, before Matt Fraser took a shot on net; the rebound came to Chase De Leo, who knocked it out of the air and just squeeked it over the goal line, putting the Moose up 2-0.
There were also three fights in the first period – Darren Kramer, J.C Lipon, and Ryan Olsen all scrapped; Olsen got dropped pretty quickly in his fight, while the other two acquitted themselves well.
Second Period
After a shot from the point hit a body in front, and Eric Comrie stopped the rebound, a third shot off the stick of Jacob Doty found its way into the net. 2-1 Moose.
Blues captain Pat Cannone one-timed a beautiful cross-ice pass from Jacob Doty, beating Eric Comrie and tying the score at 2 about halfway through the second.
Third Period
5 minutes into the period, Ryan Olsen picked off a Wolves' pass in his own zone and went in all alone on Jordan Binnington – Olsen tried to go glove side, but Binnington stoned him.
Eric Comrie made several great saves late in the period to keep the game tied at 2.
Overtime
Danny Kristo walked into the high slot and let go a wrist shot which beat Comrie low glove side, ending the game.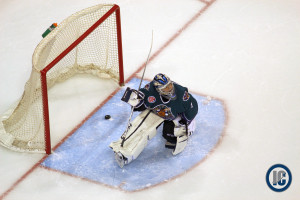 Today's Best Moose:
John Albert – Regaining his form from the past few years, Albert looked really good today, scoring the Moose first goal, generating scoring chances, and generally flying around  the ice.
Chase De Leo & Nic Petan – De Leo had a skilled play on the Moose's second goal, batting the puck out of the air. Both players had a strong game, touching the puck a lot, particularly on the powerplay, and helping set up teammates for scoring chances, and taking their own shots when the opportunity presented itself.
Eric Comrie – He faced 35 shots in regulation alone, allowing just two goals, neither of which he could be faulted on. He also made some huge saves to keep the score tied late in the third period.
Injuries:
J.C Lipon briefly left today's game but later returned
Jay Harrison continues to be out indefinitely
After missing Wednesday's game, Peter Stoykewych was back in the lineup
Audio:
Chase De Leo
Keith McCambridge