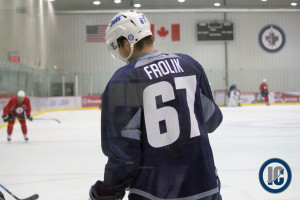 The Jets and Michael Frolik have avoided arbitration as he signed a one year contract with the club for 3.3 million dollars according to Gary Lawless of the Winnipeg Free Press.
Have just learned Michael Frolik and #nhljets have agreed to a one-year deal for $3.3 million. #bn @WinnipegNews will have web story shortly

— gary lawless (@garylawless) July 29, 2014
This was confirmed via the Jets twitter a few minutes later:
the #NHLJets have agreed to terms with Michael Frolik on a 1 year contract worth $3.3 million. Details to follow. — Winnipeg Jets (@NHLJets) July 29, 2014
For those concerned that Frolik and the Jets couldn't get a longer term deal done Gary Lawless added this:
Frolik's agent "our sole objective is a long-term deal with Winnipeg. Michael would love to sign a long-term contract there." #nhljets

— gary lawless (@garylawless) July 29, 2014
According to the CBA this cannot occur before January 1st, 2015. Ken Wiebe of the Winnipeg Sun had this to add:
Most recent discussions between #NHLJets and Frolik camp revolved around either a five-year deal or a one-year deal

— Ken Wiebe (@WiebeSunSports) July 29, 2014
Back on January 6th, 2014 Richard Pollock wrote an assessment of a Michael Frolik contract which looks at the term he might have been seeking this summer.
The Jets held a conference call with GM Kevin Cheveldayoff at 12:30 pm.  You can listen to the entire conference call here.
What do you think of the deal?