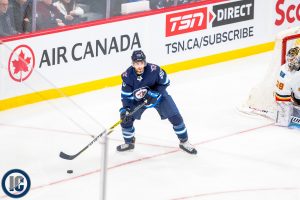 I expected the Jets to recall a forward ahead of their road trip which begins in Florida tomorrow night but somewhat unexpectedly the team announced that they have recalled 2015 4th rounder Michael Spacek up from the Moose.  In 14 games this season the centre has 3G and 4A which includes 2G 2A in his last three games.
For those curious why Jansen Harkins wasn't recalled (current Moose scoring leader, CCM/AHL Player of the Week last week) my thought is that if Spacek is being recalled to be the 13th forward then Harkins is better off playing top line minutes with the Moose. If Harkins can maintain his current level of play he'll earn a recall sooner rather than later.
This is also a good way to incentivize Spacek with a taste of the NHL.  It could provide him with some added motivation in the final year of his entry-level contract.