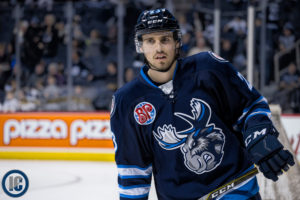 After being brought up by the Jets when they were dealing with some injured players the team announced they have reassigned Michael Spacek back to the Manitoba Moose.  The Jets 2015 4th rounder has been up with the big club for approximately three weeks.  He didn't get into any games with Winnipeg in his first NHL recall although he did earn an NHL salary (780K) vs an AHL one (70K).
In 14 games for Manitoba he has three goals and four assists.
The Moose just returned home from a seven-game road trip.  They are back in action this weekend as they face division rival Chicago here in Winnipeg for a pair of games at Bell MTS Place.