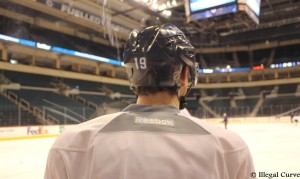 Blake Wheeler – Does he look forward to a challenge like tonight's game?  Look at it as an opportunity to show what this team can do.  What is key to making sure the Pens don't control the game?  Has this team changed its attitude?
Andrew Ladd – Did the Jets play too much run and gun last season?  Forwards coming back.  High end skill on Pens.  Does he keep a book in his mind about goalie tendencies?   
James Wright – Being in an NHL environment.  What does it mean to be back on the Prairies   Going against the Penguins.  2nd thoughts after having early NHL success and then being sent down.  Hunger with this opportunity.  Back with Evander Kane.  Can he help explain how Evander ticks?  What was it like when he got the call after he was claimed off waivers?
Kyle Wellwood –  Facing off against the Pens.  Getting his game back on track.  Does he look forward to facing a challenging team like the Penguins.  Is there a recognition that he can do a number of things on this team.