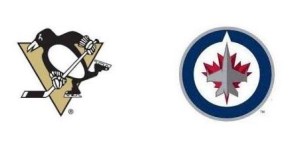 When: Friday, January 25, 2013
Time: 7:00 p.m. CST
Where: MTS Centre, Winnipeg, Manitoba
Records: Winnipeg Jets (1-1-1), Pittsburgh Penguins (2-1-0)
Television/Radio:  TSN, ROOT/ TSN 1290
The Story: It's late January. Snow has been falling in Winnipeg for days now, temperatures are bone-chilling and there doesn't appear to be an end in sight. So of course it would make sense that Penguins are in town tonight.
Okay my lead was cheesy but how could I resist? The Winnipeg Jets host the high-octane Pittsburgh Penguins tonight at MTS Centre coming off a successful two-game road trip earlier this week that resulted in three out of a possible four points. The Jets defeated the Washington Capitals 4-2 on Tuesday night after picking up one point one day earlier in Boston against the Bruins and now find themselves back home riding a two-game points streak.
The big story coming out of Tuesday's game was the line juggling engineered by Head Coach Claude Noel in Boston. Specifically, as it relates to the number-1 trio of Evander Kane–Olli Jokinen–Blake Wheeler, who found chemistry and connected for four points (two goals and two assists). The second line of Andrew Ladd–Bryan Little–Nikolai Antropov was also strong in Tuesday's game and all indications are that Noel will stick with the same forward lines tonight at home.
Pittsburgh rolls into Winnipeg on the heels of a demoralizing 5-2 loss to the Toronto Maple Leafs on Wednesday.  Sidney Crosby will make his much-anticipated NHL debut in Winnipeg tonight and will look to feast on a Winnipeg defense corps that is still without the services of the injured Zach Bogosian. Despite Wednesday's blip, the Penguins look as dangerous as ever early on this season. Led by Crosby, 2011'12 Hart Trophy Winner Evgeni Malkin, James Neal, Chris Kunitz and Kris Letang, Pittsburgh is the type of team that can explode offensively against any team at anytime.
Today's game will be the first of three meetings between the Jets and Penguins this year. The two teams will next meet on Friday, February 15th in Winnipeg (2:00 p.m. CST, CBC). The third and final meeting of the season between the two teams will take place in Pittsburgh on Thursday, March 28th (6:00 p.m. CST).
Ondrej Pavelec is expected to start in goal for the Jets.
Follow @IllegalCurve on Twitter leading up to tonight's game.
Projected Jets line combinations (subject to change before game time):
Goalie:
Ondrej Pavelec
Forwards:
1st: Evander Kane- Olli Jokinen- Blake Wheeler
2nd:  Andrew Ladd- Bryan Little- Nikolai Antropov

3rd:  Alexei Ponikarovsky – Alexander Burmistrov- Kyle Wellwood
4th:  Chris Thorburn – Jim Slater – James Wright
Defence:
Dustin Byfuglien- Tobias Enstrom
Ron Hainsey- Mark Stuart
Paul Postma–Grant Clitsome
Offensive Leaders:
Pittsburgh Penguins: Evgeni Malkin (1 goal, 4 assists, 5 points), Paul Martin (1 goal, 2 assists, 3 points), Sidney Crosby (1 goal, 2 assists, 3 points)- 2 others tied with 3 points
Winnipeg Jets: Tobias Enstrom (0 goals, 4 assists, 4 points), Dustin Byfuglien (1 goal, 2 assists, 3 points), Jim Slater (1 goal, 1 assist, 2 points)- 3 others tied with 1 point
Injury Report:
Pittsburgh Penguins: Alexandre Picard (shoulder)
Winnipeg Jets: Zach Bogosian (wrist), Antti Miettinen (upper body)

Who's Next: The Jets host the New York Islanders on Sunday night at the MTS Centre (7:00 p.m. CST).
QUICKIES…..After three games this season, Jim Slater leads the Jets with a plus/minus rating of +1…..In four games last year, the Penguins defeated the Jets three times by a combined score of 18-12…..