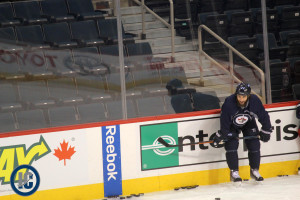 The Jets took to the ice for a final practice at home before leaving for a pair of games in Vancouver.
Everyone is present and accounted for today at practice.  Petan, Armia and Matthias wearing grey uniforms.  All three fully participated in today's practice.  You can read an update on their progress in today's Injury Report here.
Ehlers-Scheifele-Laine
Perreault-Little-Wheeler
Dano-Lowry-Stafford
Tanev-Copp-Thorburn
Extra: Burmistrov
Grey uniforms: Matthias, Armia, Petan
Morrissey-Byfuglien
Enstrom-Trouba
Chiarot-Postma
Extra: Stuart
Hellebuyck & Hutchinson
Player audio:
Nikolaj Ehlers:  On his relationship with Patrik Laine.  On what they do on the road.  On Laine adapting to the lifestyle off the ice.  Has it been able to help him?  Is this a close team?  Forming bonds.
Blake Wheeler:  Having more depth in the lineup.  Does it make it easier mentally?  On Laine having one of the greatest 18 year old seasons ever.
Mark Scheifele:  Is there anything that Laine can teach other players?  Outside of hockey, is he learning about Finland?  How much better is the mood after a couple of wins?  Is it easier to shrug off losses when you're younger or is it harder?  On potentially getting a bunch of players back into the lineup.  On getting to play in Vancouver twice.  Any drawbacks?  Has Patrik Laine had the best hockey season an 18 year old has ever had?  Anyone he would compare Laine to?  Getting enough secondary scoring?
Coach audio:
Paul Maurice:  Has he asked Chris Thorburn to be a bit more "vigilant" with all the youth in the lineup?  On Laine having one of the best years an 18 year old ever has?  Is he getting enough secondary scoring?  Status of Armia, Petan and Matthias?  Where does Alex Burmistrov fit in when everyone is healthy?  Has he spoken to Burmistrov?  How is his team handling the mood swings?  On young players dealing with losses vs. older players.  What can other players learn from Laine?