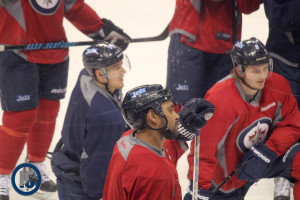 After two days off the Jets took to the ice for a practice at MTS Centre for the first time since an optional skate back on December 7th.  The last time that Winnipeg held a full team practice here was back on November 28th.
According to Ted Wyman of the Winnipeg Sun today saw a return of Joel Armia and Shawn Matthias in yellow non-contact uniforms for the Jets.
Lines are via Brian Munz of TSN 1290 Winnipeg:
Ehlers-Scheifele-Wheeler
Perreault-Little-Laine
Tanev-Lowry-Stafford
Dano-Copp-Thorburn
Matthias-Burmistrov-Armia
Morrissey-Byfuglien
Enstrom-Trouba
Postma-Chiarot
Stuart
Hellebuyck &  Hutchinson
Player audio:
Blake Wheeler:  How welcome were Monday & Tuesday for him?  Seeing Armia & Matthias healthy again.  Being able to survive the grind.  Is it easier to play their game based on the upcoming schedule?
Shawn Matthias:  How does he feel?  Has his timeline of return changed at all?  What has been the hardest part of this for him?  Is he hopeful to return for a game at home or is he thinking Vancouver?  What can he and Armia bring to the lineup?
Joel Armia:  How did it feel to be back on the ice?  Update on his road to recovery.  Any idea when he will have an opportunity to play?  Does he have a game circled on the calendar when he think he will return?  How much did it help to have Shawn Matthias with him?  Frustrating getting injured when he was playing well?
Coach audio:
Paul Maurice:  Update on Armia and Matthias.  Does he think they could play in the home games?  What did it mean to get a couple of days off and then back onto the ice for a practice today?  Would he re-think doing game day skates based on the 32 games in 60 days type schedule?  Update on Tyler Myers.  Any advantage in the schedule moving forward?  How would he describe his team's confidence during this stretch?  How does he feel about Olympic participation?  With Ovechkin saying he would go regardless, has he considered that other players might do the same?  On Laine's response today to the own goal.