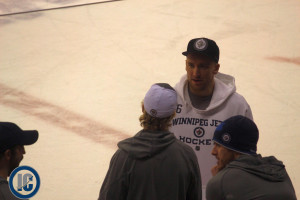 Coach Paul Maurice cancelled practice today opting to hold a team meeting instead.  We still heard from some players today in Boston as they get ready to face the Bruins tomorrow.
Player audio:
Connor Hellebuyck:  What is his mindset this morning?  Reflection on the 1st period.  On the Flyers 3rd goal.  How does he manage the ups and downs?  Getting the opportunity to be the #1 goalie for the Jets.  On not having a lot of practice time?  Mental exercises during lulls in the game.
Chris Thorburn:  Reaching 700 NHL games.  Has the last decade flown past?  Battling for a job add to the mental taxation?  Lots of physical battles this season.  His thoughts on the youth in the room?  Do any moments stick out from past 700?  His thoughts on the Flyers "tough guy" night?  On the cancelled practice, balancing schedules.  Being a calming influence.
Josh Morrissey:  On Thorburn's 700 games.  Is the veteran presence of Thorburn and others gets them past a loss like last night?  What is it like to go without practice so often in a season?  Do they then take advantage of the pre-game skate in the morning?  How exciting is it for him to go through some of these iconic arenas like Philadelphia and Boston?  Does he still have "wow" moments in games?  What does he like about Hellebuyck's mentality?
Coach audio:
Paul Maurice:  On the decision to cancel practice.  Assessments the day after that loss.  How does he balance in throwing a guy back into goal vs. giving him a chance to sit one.  On supporting Hellebuyck.  Chris Thorburn hitting 700 games.  What does it say about him that he's been able to stick in today's NHL?  How does today's change in plans impact Stafford's availability?  His thoughts on the Bruins.  Does he have to tell anyone "not to go" for a skate today?  None of the power play goals on the road, is that an anomaly?
All audio courtesy of TSN 1290 Winnipeg.