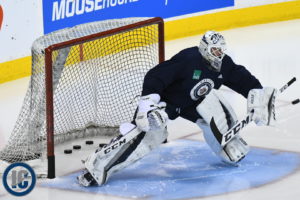 The Jets are riding high having clinched a playoff spot last night after they won their fifth straight game with a 5-4 shootout victory over division rival Nashville.
Pre-practice notes:
According to Ken Wiebe of the Winnipeg Sun the Jets had a couple of their injured players out skating ahead of today's practice including goalie Steve Mason who was "doing some work with goalie coach Wade Flaherty" and Jacob Trouba has shed the yellow non-contact uniform for the regular red one worn by the Jets D.
Practice notes:
It is an optional for the Jets today as they prepare to face the Bruins tomorrow night.  According to Brian Munz of TSN 1290 Winnipeg the only skaters are "Hutchinson, Comrie, Poolman, Trouba, Matthias, Lowry, Ehlers, Roslovic, Dano".
Audio:
Tyler Myers
Kyle Connor
Mark Scheifele
Coach Maurice:  On Kyle Connor getting recognized by the NHL.  Reflecting back on last night's game.  Update on Jacob Trouba.  How does this team feel different than the 2015 team that made the playoffs?  What has he seen in Kyle Connor's game that has stood out?  On gaining experience?  His sense on the team's potential and what it means to the city.  On Adam Lowry and Andrew Copp as a pairing.  On the depth and whether he is appreciative of what he has.  On the notion of being "Canada's team".  Clarification on Trouba.  On the commitment it takes for a rookie to get to the next level.  More on Kyle Connor.  Is tomorrow an Eric Comrie night?  Update on Mason/Hutchinson?
Audio courtesy of TSN 1290 Winnipeg.
Health notes:
Defenceman Jacob Trouba has shed his non-contact jersey for a regular one.  Coach Maurice indicated that he has "cleared his tests.  So he'll go to full contact.  One of the challenges we'll have right now is there's not going to be any practice time from now until the end of the regular season with our schedule.  And we're not going to put him back in the lineup until he is banging on the door saying he knows he's right.  He's as good as we can say he is.  He's cleared, he feels strong but he has to get into contact and he has to get harder minutes and we're going to be real patient with that."
The Jets still have two injured goalies on the roster in Michael Hutchinson and Steve Mason.  The update from the Jets bench boss was "Michael's cleared his concussion protocol as well.  It's kinda the same thing.  Goalies are a little different.  We gotta get em back and moving, we gotta get them a volume of shots.  I would say Hutch and Mase are probably on par, fairly close to each other.  But its still four or five days away before we start looking at them in a backup role".