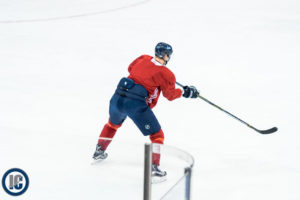 The Jets are back on the ice after a tough 3-2 OT defeat last night at the hands of the Vegas Golden Knights.  Plenty of folks today are still talking about James Neal breaking his stick across the helmet of Connor Hellebuyck just a second before the second Vegas goal.
But the Jets will have to switch their focus to the previously red-hot Colorado Avalanche who come to town to play tomorrow night and are holding the final wild card spot.  This Colorado team reeled off ten straight wins between December 29th and January 22nd but then went 1-2-1 in their next four.  Not helping matters was the news that they will be without their top scorer in Nathan MacKinnon who has been sidelined for 2-4 weeks.
Practice Notes:
Ken Wiebe of the Winnipeg Sun indicates that Tyler Myers, who took a shot to the leg last night, was on the ice this morning which is obviously good news for the Jets.  However, Ken also indicated "As expected, no sign of #NHLJets C Adam Lowry this morning. Lowry left the game in the third period with what appeared to be an upper-body injury. No Toby Enstrom this morning either, but doubt that is cause for concern".  Below are the lines and D pairs via Ken.
Lines & D pairs:
Laine-Wheeler-Roslovic
Perreault-Little-Ehlers
Tanev-Copp-Armia
Connor-Hendricks-Dano.
Morrissey-Myers
Poolman (Enstrom)-Byfuglien
Chiarot-Kulikov.
Health Update:
Coach Maurice provided an update on Adam Lowry who left the game yesterday indicating that "We're going to get him looked at here today, it's not significant. Don't think it will be a tremendous amount of time, I'm not sure.  I'll get a better idea this afternoon whether he's a player tomorrow or not."  Dmitry Kulikov who has been out three games with a concussion will go back into the lineup tomorrow.  Tyler Myers left the game briefly yesterday but returned soon thereafter and finished the game against Vegas is fine, with the coach adding that it was "Just a stinger. It's a long leg to lose feeling in.  He's fine".
Audio:
Josh Morrissey
Andrew Copp
Mathieu Perreault
Dmitry Kulikov
Coach Maurice:  Update on Adam Lowry.  More on the second Vegas goal/slash by Neal across Hellebuyck's mask.  Does he hear from the league?  Would someone from the organization hear?  Is Dmitry Kulikov back in?  Status of Tyler Myers.  If Lowry doesn't go, would Copp slide back into the middle.  Games against the Avalance.  On last night's power play.  Is there a concern that the NHL isn't protecting their players?  Can he provide any clarity on when Lowry sustained the injury?  More on goalie interference.
Audio courtesy of TSN 1290 Winnipeg.