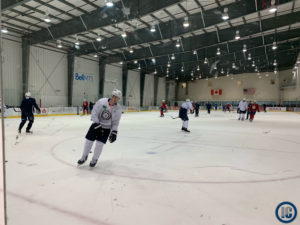 On Monday we learned that Brandon Tanev would miss game one of the Jets series with the Blues being labelled day-to-day by head coach Paul Maurice.  There were a few other players missing from the highly attended optional skate for Winnipeg so we shall see what happens with the five or six guys who didn't skate with the main group although coach Maurice did say that he didn't have any concerns about their availability for the first game of the series.
Practice Notes:
When practice began it was without Sami Niku or Eric Comrie on the ice for the Jets.  Extras in blue were Nathan Beaulieu, Joe Morrow and Matt Hendricks.
Once practice was wrapping up Sami Niku, Eric Comrie, Bogdan Kiselevich as well as Brandon Tanev came out late to skate.
Lineup:
Connor-Scheifele-Wheeler
Ehlers-Hayes-Perreault
Copp-Little-Laine
Lindholm-Lowry-Roslovic
Morrissey-Trouba
Chiarot-Byfuglien
Kulikov-Myers
Audio:
Dustin Byfuglien
Bryan Little
Adam Lowry
Nikolaj Ehlers
Coach Maurice:  How tough was it to take Nathan Beaulieu out of the lineup?  Having the top six and how different the team could look with everyone back?  Any change in the status of Tanev?  Is it too much to expect one player to change a series?  Where has Kevin Hayes had his biggest impact?  What did Nikolaj Ehlers learn from last season's playoffs?  With the playoff experience they gained last year make up for where the Jets game is currently at?  Is there another level for the top line to find?  Does he expect a "feeling out" process?  How critical is game one?  On the atmosphere inside Bell MTS Place.
Up Next:
Game 1 of the 1st Round between the Jets and Blues kicks off on Wednesday.   Be sure to keep it locked to illegalcurve.com for the AM Papers which go live at 7 AM followed by our pre-game report at 10:30 AM.