In case you aren't aware, November becomes Movember to help raise funds/awareness for prostate cancer.
During November each year, Movember is responsible for the sprouting of moustaches on thousands of men's faces, in Canada and around the world. With their "Mo's", these men raise vital funds and awareness for men's health, specifically prostate cancer.
Even yours truly has given my face over to Movember.
You couldn't help but notice during the televised Jets games in November that it appeared some of the Jets were participating in the Movember movement.  Once they took to the ice at practice today it was even more clear that a number of players have also donated their faces to help spread the word.
Update:  The Jets have now set up a Movember donation page.  They currently sit at $898.00.
We had a chance to catch up with some of them and inquire why they are doing this and who has the best stache.
Bryan Little:


IC:  Are you guys doing this as a collective team effort or as individuals?
BL:  It is up to whomever wants to do it.  It is more about the awareness.  I think we have 6 or 7 guys participating.
IC:  Is the plan to raise money or about raising cancer awareness?
BL:  Both.  Some guys are growing it for awareness, spreading the word.  I think McCardle has a web site set up that you can donate money. (Note – when I spoke to Kenndal McCardle he hadn't yet set up site.  See below)
IC:  What are you guys looking to achieve with this?
KM:  I think it started out to help raise awareness of prostate cancer.  It has turned into something people can do to help the cause.  I am going to put up a profile page on Movember just to raise as much awareness as I can.
IC:  Has anyone raised money?
KM:  I think the team is going to set something up pretty soon and individuals can as well.  I can't talk for everybody.  Some guys just rock it because it is a time they can and others guys are doing it to raise some cash.  Hopefully the guys who can raise, raise as much as they can.
IC:  Who has the best Movember mustache?
KM:  It is a little too early to tell.  Mark Stuart has a pretty good one, and is probably in the forefront right now.
IC:  Who is rockin the best Movember mustache?
ZB:  Me.
IC:  Did you start on November 1st? (With Brett Festerling yelling "cheater" in background)
ZB:  I started a little before but you know what, that doesn't matter as I'm raising the most awareness because you can see mine the best.
IC:  Has anyone raised money or is it about awareness?
ZB:  Right now it is about awareness.  We have been on the road for awhile so we haven't had a chance to be home to set anything up, but I'm sure it is something the guys will look into.
IC:  Do you like your Movember mustche so far?
BF:  Ya, I don't get enough credit as I am blond and I started on November 1st.
IC:  Did you guys talk about what type of mustches you were going to grow?
BF:  I had mine cut before I got here or I might have gone handlebars.
IC:  How you feeling about your Movember mustache?
MS:  Feeling ok.  A little weird looking in the mirror I don't really recognize the guy looking back at me.  I like it, it's fun and for a great cause.
IC:  Who has the best Movember look?
MS:  Bogo has the best one going.
When informed that Bogosian had started a little early he kept with his original answer adding:
MS:  Some people just look good with a mustache and he is one of those guys.  He has that mustache look.
Story updated to include:
IC:   How do you feel about your Movember mustache?
JS:  It is coming in good.  Should be better in the next week or so.
IC:  Why are you doing this?
JS:   To raise awareness.
IC:  Who has the best mustache on the team?
JS:  Mark Stuart has a really solid one.  Peter Mannino had a really good one too. Every mustache has its own personality.
IC:  Who has the worst mustache on the team?
JS:  Probably, Brian Little because it is blond and you can't really tell it is there but he does it for the cause, which is a good thing.
Updated Pictures:
While we know that Johnny Oduya isn't following the rules as strictly as some (he started his mustache before the Nov 1st start date) he has clearly dedicated his face to the cause.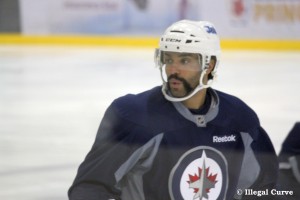 Updated News:
I spoke with a number of Jets today at practice and those that I spoke with (Little, Stuart, Thorburn and Slater) all seemed ready to part with the Mustache.  So while you might see Jets with a mustache tonight against the Senators, expect a mostly mustache-free Jets squad on Thursday (Dec 1st) against Phoenix.
Mark Stuart talks about parting ways with his Movember stache.
Bye Bye Movember
So there you have it.  Your Winnipeg Jets (and this IC Correspondent) rocking the mustache look for Movember.  If you have any good Movember pictures or stories, feel free to add them in the comments section.