The players had a brisk practice today.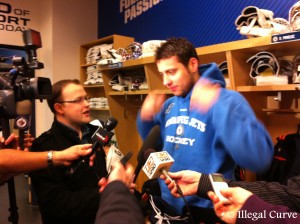 Notes:
– James Wright wore an orange non-contact jersey,
– Mark Stuart was wearing a normal jersey.
– Ron Hainsey and Nik Antropov were not on the ice (took maintenance days).
Ondrej Pavelec – Being ready to face the Hurricanes.  Is he refreshed?  (He takes issue with being asked about playing games and/or time off).  Why does he like afternoon games?  More Hurricanes talk.  Staying out of the penalty box in Pittsburgh.  Chance to put Carolina well behind them.

Evander Kane –   Being in a playoff race.  Has he done any analyzing of the schedule?  Chance to deliver a knock out punch to Carolina?  What's the mood in the room considering trade deadline?  Thoughts on trade deadline.
Mark Stuart – Is he ready to go?  Injury occurred during Ovechkin collision.  If it was up to him would he play?  Sitting out during the stretch run.  What has he seen from the Press Box?  Chance to widen gap between themselves and Carolina.