Note:  Tune into NHL Mid-Week with Illegal Curve starting at 7 pm on TSN 1290 Winnipeg.  Guest:  Bob McKenzie (TSN).
Jets news:
NHL.com:  Over the Boards.  Dan Rosen of NHL.com does a feature on many different players in this article and one of those (mid way down the page) he has a couple of paragraphs about Olli Jokinen's unlikely return to the Olympics.
Jets official site:  Prospect report.  Kalen gives you a look at what your Winnipeg Jets prospect pool have been up to for the last week.
Voice of Russia:  Michael Frolik, Czech jewel in the arctic.  David Kerans has a 1 on 1 (from last week) with the Jets winger (both transcribed) as well as an eight+ minute video covering everything from his early childhood playing in Kladno to preparing to leave for Sochi.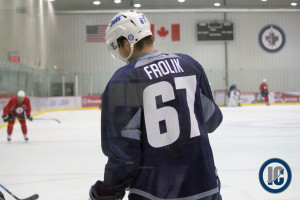 IceCaps news:
NHL.com:  AHL All-Stars edge Färjestad BK in skills competition.  Looks like the captain put on quite a show to help his side secure the win.
Sochi 2014:
Winnipeg Free Press:  Team Canada should heed Tretiak's dire warning.
Winnipeg Free Press:  Hoping for a Sochi streak.
Globe and Mail:  Crosby exudes quiet confidence.
Toronto Sun:  Failure to win gold would be 'disaster': Don Cherry.
USA Today:  Close-knit U.S. hockey team ready for Slovakia.
CBC:  Henrik Sedin's injury puts Sweden in tough spot vs. veteran Czechs.