Note:  Today marks the fifth day of free agency.  Who else will the Jets sign?  Be sure to stick to @illegalcurve for any and all breaking Winnipeg Jets news.  We are having another Tim Hortons contest tied to Free Agency.  Tweet @illegalcurve, using #TimsFA, and tell us who you think the Jets will sign in NHL free agency!  Ex.  @illegalcurve #TimsFA  Matthew Perreault.
Note II:  Today's Illegal Curve Hockey Show will be on from 1-3 pm with a focus on Free Agency on TSN 1290 Winnipeg.
Jets news:
Winnipeg Free Press:  Summer school.  Ed writes about the upcoming camp including this year's first rounder, five players to watch, Manitoban players, camp by the numbers and the schedule.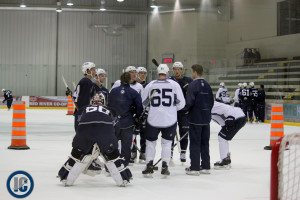 TSN 1290 Winnipeg:  Hustler & Lawless (audio).  The guys spoke with Coordinator of Player Development for the Jets Jimmy Roy on what he has been up to and looking ahead to next week's development camp.
Illegal Curve:  Jets invite Karson Kuhlman to Development Camp.  Not all players coming to camp are players that have been selected and one player who will be participating next week is Karson Kuhlman.
Illegal Curve:  Five goalies at Jets Development Camp.  You've read which goalies will be attending camp and here is some additional information on how their seasons went last year.  Next up will be defence which will be posted later today.
IceCaps news:
The Telegram:  IceCaps recap.  While Jets fans are eagerly awaiting changes to the parent club fans of the St. John's IceCaps have seen a lot of personal moves down on the farm.  Brendan McCarthy recaps all the moves.