Jets news:
Edmonton Journal:  Evander Kane of Winnipeg Jets is on the market. Does a deal to the Edmonton Oilers make sense?  Courtesy of a Bob McKenize tweet from yesterday indicating the Jets are ready to deal as we head towards draft day, the rumours and speculation begin.  David Staples of the Edmonton Journal writes about a possible deal between Winnipeg and Edmonton.  Like what you see?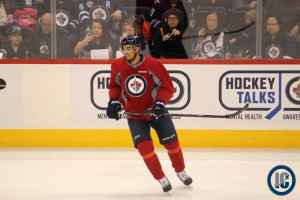 TSN 1290 Winnipeg:  Rona Roundtable (audio).  Rick spoke with Winnipeg Free Press reporter Tim Campbell and they previewed what the Jets might do during the off season including plenty of talk about goalie Michael Hutchinson.
Calder Cup Final – IceCaps vs. Stars (Texas leads series 3-1):
The Telegram:  Morin's two goals rally Stars past IceCaps 4-3 in OT.  Bit of a haunting loss for the IceCaps as they blew a 3-0 lead.  Game 5 goes tonight at Mile One.
Austin American-Statesman:  Stars beat IceCaps in overtime, need one more win to take Calder Cup.  It was a dominating 3rd period by Texas and if not for IceCaps goalie Michael Hutchinson the score may have been very different.