Jets news:
The Hockey News:  Criticism hurled at Kane, Byfuglien, Subban & others is about race more than character.  This is a tough one.  Read twitter where you can see numerous examples of ignorance and racism (might be time for a campaign "think before you tweet") that spews forth whenever these players are in the news.  While you cannot deny that same exists, I am also not sure it is fair to suggest that the majority of the criticism (not via social media) comes from prejudice.  Perhaps it is, but the experience I have had with fans in this city suggests this is not the case.  What do you think?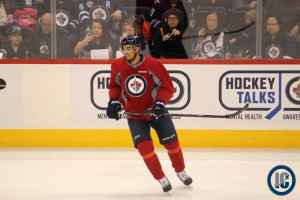 IceCaps news:
The Telegram:  IceCaps will face Albany Devils in first round of Calder Cup playoffs.  Unusual that the IceCaps end up playing in the first round against a team they never played during the regular season.
The Telegram:  IceCaps close out regular season by edging Pirates.  It was a come from behind victory to close out the regular season.  Michael Hutchinson made his second straight start and picked up another win finishing off the season with a 17-5-1 (Save % of 0.923 and GAA of 2.30).
Maine Sunday Telegram:  Pirates go out with a whimper.  A look at the game from the other side as Portland lost their eleventh game in a row.
Prospect news:
The Oregonian:  Portland get the momentum and the 5-3 win against Kelowna.  The Winterhawks evened the series 1-1 helped by the strength of play of Jets prospect Nic Petan who finished the game with a goal and two assists.  Ryan Olsen, a Jets prospect playing for the Rockets, finished the game -1.
Illegal Curve Hockey Show Replay:
Part 1:  Recap of the playoffs thus far, MBL up 2-0, DET up 1-0, ANA up 2-0.  Interview with Pat Hickey of the Montreal Gazette (13:16).  SJ up 1-0, STL up 1-0, COL up 1-0 (23:56).  PIT up 1-0, NYR up 1-0 (38:12).  Interview with Aaron Portzline of the Columbus Dispatch (47:39).  Should the Winnipeg Jets bring back Alexander Burmistrov? (1:01:11).
Part 2:  Should the Winnipeg Jets bring back Olli Jokinen?  What is Olli Jokinen worth?  (10:43).  Interview with Josh Cooper of The Tennessean (22:52).  Kevin Cheveldayoff end of season press conference (41:15).  Interview with Tom Lynn, Veritas Hockey (51:29).  Rapid Fire (1:01:12).