Note:  Reminder that with a 2 pm start for the Jets and Senators, the Illegal Curve Hockey Show kicks off game day coverage on TSN 1290 Winnipeg today starting at 8 am. Guests: James Gordon (Ottawa Citizen), Michael Russo (Minneapolis Star Tribune) and Anthony SanFilippo (InsidetheFlyers).
Note II: Following today's Jets Papers, you can ensure you are up to speed with our game set-up written by Ezra Ginsburg.  After the game, be sure to check us out for all the post-game reaction. As soon as the site is updated we notify you via twitter @illegalcurve and Facebook.
Note III: For home games we have both our #ICGWG and #IC5050 contests. Make sure to @ tweet @illegalcurve with your guess. Remember that for your vote to qualify you must send in your guess using a hashtag (#). (i.e. #ICGWG Wheeler & #IC5050 $35,500.00).
Jets news:
Winnipeg Free Press:  Repentent Enstrom ready to move on.  No point getting out your tar and feathers as he is clearly aware of the cost of his error.  Sometimes a wake up call could be exactly what is needed by a talented player like Enstrom.
Winnipeg Free Press:  Coach not worried about loss of momentum.  It will certainly be interesting today against the Senators.
Winnipeg Sun:  Jets move on from thrashing by Kings.  Just like you cannot be too excited about your last win, you cannot focus too long on a tough defeat.
Winnipeg Sun:  Setoguchi hopes to make trade deadline reprieve pay off for Jets.  He is certainly going to need to step up his game if he wants this team to make a serious run at the playoffs.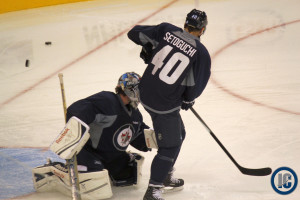 Winnipeg Sun:  Jets look to rebound against Senators.  The Jets are facing a surly bunch who lost both games in Alberta and coach MacLean put them through the paces yesterday during practice in Banff.
Illegal Curve:  Coach Maurice scrum from IcePlex (audio).  Intending on staying with the same lineup?  Liked what he saw with the group?  Seeing the success of LA, is that what he's trying to bring to this team?  Has the team lost some of the momentum they carried into the break?  Frolik's move to centre.  Hard to ask a guy to move position at this point in season?  What  does he need from Setoguchi down the stretch?  Thoughts on Ottawa.  What does he know about John Albert?  Keys to being better in transition game.
Senators news:
Ottawa Citizen:  Frustration boils over for Senators.  As I said above these isn't a happy bunch which even resulted  in a few punches being thrown in practice.
CBC:  Uninspired Ottawa Senators could find spark in a Prince.  Looking for inspiration wherever it can be found.
IceCaps news:
CBC:  IceCaps edge Sound Tigers 3-2.  St. John's are getting contributions from all sorts of players and yesterday Julian Melchiori notched his first of the season in helping the IceCaps to their seventh win in a row.