Jets news:
Winnipeg Free Press:  Kane, Jets have fun practice.  Let's hope they enjoyed the fun to close out the weekend because the competition over the next few games is going to really put this team to the test.
Winnipeg Sun:  Kane on track to return to Jets lineup.  He seemed good at practice and Coach Maurice indicated that he will be returning to full practice today before the team departs for California.
Winnipeg Sun:  'Fighting's part of game': Jets' Kane.  No question what side of the issue that Evander Kane is on when it comes to the issue of fighting in hockey.  While he admitted that he hasn't had too many in his career he acknowledged that it is important part of the game.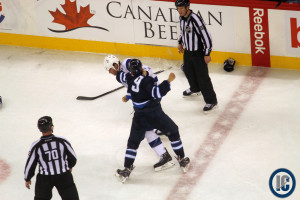 Winnipeg Sun:  Jets fourth-liner still looking for first goal of season.  It has been a long drought for James Wright.  So much so that I joked during the open practice that the drought had ended as he finally put one in the net.  Coach Maurice hasn't lost faith in the 4th liner saying that due to the minutes he plays aren't the most conducive to scoring.
Winnipeg Sun:  Six Jets get day off.  Didn't sound like it was anything to be too worried about that the Jets (Ladd, Little, Wheeler, Enstrom, Jokinen & Ellerby) who weren't on the ice.  Also some 'Around the Glass' notes.
Edmonton Journal:  This N That.  Buff is mentioned in Jim Matheson's column (6th paragraph).
Illegal Curve:  A pictorial summation of the Jets open practice.  There were plenty of kids in attendance at the MTS Centre and they got quite the treat from the Jets as they got to watch the players participate in drills and then got throw autographed Jets memorabilia.

Illegal Curve:  Coach Maurice scrum.  Status of players who didn't participate today (Wheeler, Ladd, Little, Enstrom, Jokinen, Ellerby).  Kane update.  Postma status.  The open practice.  Upcoming road trip.  His contract with the Jets.  Choosing being a coach vs. being on TV.  Quick talk on Cgy/Van.  James Wright goalless drought. 
Illegal Curve:  Jets audio from practice.  Hear from Chris Thorburn, Jacob Trouba and Evander Kane.
IceCaps news:
The Telegram:  Inconsistent IceCaps on display again.  The parent and farm clubs seem to mirror each other quite a bit this season.