Once again for those fans on the outside looking in, today was a chance for those on the wait list to get preferential treatment as fans were given access to the Jets practice.  It was a party atmosphere inside the MTS Centre today as fans showed up to watch their team run drills.
For those unable to attend here are some pictures from the hour long practice.  Enjoy.
Coach Maurice talks to the crowd: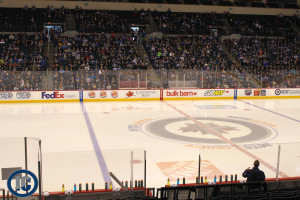 Maurice still had a practice to run:

Tennis ball drills:

Blake Wheeler, Bryan Little, Tobias Enstrom and Andrew Ladd chat on bench: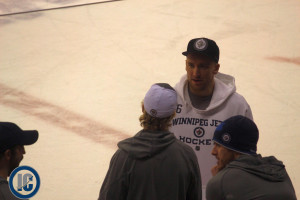 The winning team takes a victory picture:

Stuart and Pardy sign hats for fans:

Postma, Wright and Frolik also sign some hats:

Eric Tangradi tosses his hat to some fans: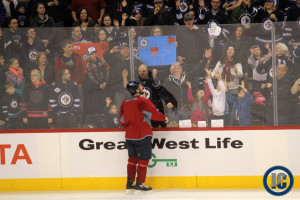 The one time fans are ok seeing Kane in the box:

Buff signs a hat:

And then tosses it into the crowd:

In addition to all these giveaways the Jets gave away a Blake Wheeler jersey and tickets to the game against the Vancouver Canucks.