CBC:  Elliotte Friedman's 30 Thoughts.  Thoughts 1 and 17 are Jets related.
Winnipeg Free Press:  You ain't seen nothing Jet.  No point in worrying over 1 game in an 82 game season.
Winnipeg Free Press:  Out-of-town scribes chip in.  That was a media experience like no other.  From ESPN to CBC and everyone in-between, the city was full of media and here are some of their thoughts on the home opener.
Winnipeg Sun:  Scheifele underperforms in 'average' Jets debut.  Not the continuation of the pace he was maintaining during the exhibition season, we think it is a tad early to panic about the Jets 1st round pick.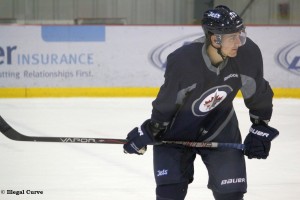 Montreal Gazette:  Jets fans show their love of game.  I think most would agree with Pat, except at the notion that the city wanted the Coyotes back.  Aside from the history which would have been fitting, the Coyotes are a much older team, without the same potential the former Thrashers and current Jets crew had/have.
Globe and Mail:  The fork in the road for Jets' boss Cheveldayoff.  Jets fans are hoping he is able to bring his magic touch (seven league championships in the IHL and AHL in 15 years) to the team.  Have to love this quote from the custom agents as he first came to Manitoba:
We only have two questions,' they told me. 'What's the name of the team? And when are you going to win the Stanley Cup?
Winnipeg Sun:  Jets get litigious over trademarks.  Everyone is trying to capitalize on the Jets brand, but True North has a right to protect the brand they have created.
Winnipeg Sun:  Jets just want to focus on hockey.  Not sure how eager I would be to leave Winnipeg when the team the Jets face next are the Blackhawks.
Winnipeg Free Press:  Rypien tribute strikes a chord.  I thought the tribute the Jets played was very poignant and showed a level of investment that True North makes in their players.
Regina Leader-Post:  Rick Rypien's memory lives on.   Honouring his memory is important and his former junior club is planning on doing this by changing the unsung hero award in honour of Rypien.
Portage Daily Graphic:  Bodie looking for shot.  Some, himself included, were expecting that he would make the squad as the 13th forward.  Since he was not signed to a contract by Winnipeg it appears that he will go wherever the situation dictates.