TSN:  Beyak – Jets prep for Hawks, look back at Opener.  Jets are already juggling their lines as they try and find the right chemistry.
Winnipeg Sun:  Jets juggle lines.  After only scoring once against the Habs, the Jets are balancing out the lines a bit more.
Winnipeg Free Press:  Jets prep for first road trip.  Hopefully the short road trip to Chicago and Phoenix can get this team properly focused, although the trip to Phoenix should prove interesting.
Globe and Mail:  Noel still trying to get a read on his Jets.  The coach was clearly displeased with the laissez-faire attitude that the Jets players were giving and he admonished them accordingly.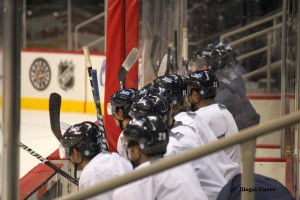 Winnipeg Sun:  Fans will decide 'real' Jets story.  I've heard similar thought about the Rypien tribute.  I didn't think it adversely affected the atmosphere before the game. 
Jets Next Opponent (Blackhawks) News:
CSN Chicago:  Postive news on Blackhawks' injury front.  Despite nursing a groin injury Hawks' goalie Corey Crawford is expected to play against the Jets on Thursday.
ESPN:  Chicago goaltender Crawford misses practice.  Ben Smith (concussion) and Viktor Stalberg (leg) are getting closer to returning from injury.