Note:  Stay tuned for more sights, sounds and video from last night's Skills Competition which we will post later this morning.
Jets news:
Winnipeg Free Press:  Kids help Jets forget woes at skills competition.  The Jets really were accessible to their fans as they took down the glass in the boards and the players interacted and signed autographs all evening long.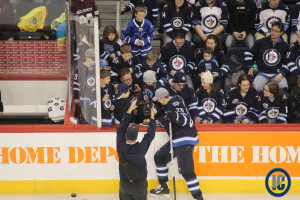 Winnipeg Free Press:  He's got their attention.  Sounds like Lipon is playing quite well on the Rock.
Winnipeg Sun:  Peluso surprises by besting Byfuglien in Jets hardest shot competition.  Of all the events last night I think many in the crowd assumed that Buff had the hardest shot contest in the bag.  However, somewhat unexpectedly, Anthony Peluso landed the heaviest blow (to the puck and not a face) registering a shot over 103 mph.
Winnipeg Sun:  Do the Winnipeg Jets have a goaltending controversy?  Al Montoya has definitely done enough to justify more starts but I'm not sure we have a controversy just yet.
Winnipeg Sun:  Jets are Fuelled by Patience in third year of existence.  What is the answer?  Should fans be gathering in a mob with pitchforks or is patience acceptable if the end game can be seen?
Winnipeg Sun:  Notes from the Road.  Ken gives you a glimpse at his thoughts from the road in this comprehensive piece.
Illegal Curve:  Jets Skills Competition live blog.  There was a lot of excitement at the MTS Centre last night as 12,038 fans packed the MTS Centre for the Skills Competition festivities.

IceCaps news:
The Telegram: Jets send Albert back to the IceCaps.  Pure NRG had a good run with the big squad scoring in his first NHL game but he was unable to generate much more offence.
NHL Mid-Week:

Replay:  Jets split on two game road trip, beat Columbus, lose to Buffallo. Now 1-4 in last five games.  Alex Steen signs contract extension.  Interview with Dave Harmon, VP HBO Sports & coordinating produce on 24/7.  Winnipeg Jets skills competition update.  The development of Mark Scheifele.  Illegal Curve Article of the Week.  Milan Lucic rips the city of Vancouver.  Winnipeg Jets skills competition update, 6 Things We Learned This Week.