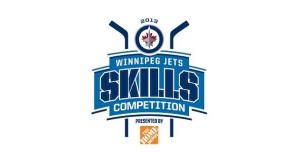 9:10 pm:  Pictures, videos, interviews and results will be posted on site.
9:00 pm:  I head down to the Jets room.  Interviews with Scheifele, Trouba, Thorburn and Clitsome.
8:55 pm:  Winner were Team White.  Mark Scheifele accepts it on behalf of his team.

8:45 pm:  Relay.  Team White behind Ondrej Pavelec were the winner.
8:15 pm:  Hardest shot.  Unexpectedly Anthony Peluso won this event hittin 103.9.  Buff hit 100 a couple of times.
8:00 pm:  Relay is over.  Lots of fun and lots of interference.

7:42 pm:  Bryan Little dominates the shot accuracy competition going 4/5 in 12 seconds.  Next closest was Eric O'Dell at 4/6 in 15.8 seconds.
7:30 pm:  Despite a good effort from Blake Wheeler, Mark Scheifele pulls off the fastest time at 13.67.

7:15 pm:  Team Blue playing up the crowd and signing autographs.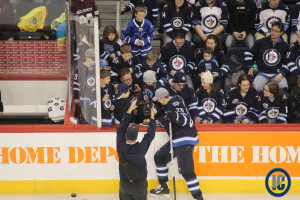 7:05 pm:  Players are being introduced.

7:00 pm:  Voice of the Jets on TV and Radio Dennis Beyak and Brian Munz are on the ice and ready to host tonight's Skills Competition.
6:30 pm:  Glass has been removed around the ice to give fans a better view of the events.

6:15 pm:  Slow up in the Press Box.  Just myself and Scott Billeck (Manitoba Hockey News) upstairs.  Fans slowly filtering into the building.
Here are the rosters:
| | |
| --- | --- |
| TEAM WHITE | TEAM BLUE |
| Adam Pardy | Mark Stuart |
| Keaton Ellerby | Jacob Trouba |
| Evander Kane | Olli Jokinen |
| Anthony Peluso | Andrew Ladd |
| Bryan Little | James Wright |
| Chris Thorburn | Grant Clitsome |
| Eric Tangradi | Blake Wheeler |
| Dustin Byfuglien | Toby Enstrom |
| Mark Scheifele | Devin Setoguchi |
| Michael Frolik | Eric O'Dell |
| Ondrej Pavelec | Al Montoya |
.
Next we list the event that will take place this evening.  Feel free to submit a guess as to who you think will perform best in each of these events.
EVENT #1 – FASTEST SKATER
TEAM WHITE
TEAM BLUE
PLAYER 1
Evander Kane
Olli Jokinen
PLAYER 2
Keaton Ellerby
Jacob Trouba
PLAYER 3
Chris Thorburn
Toby Enstrom
PLAYER 4
Michael Frolik
Blake Wheeler
* Player with fastest time wins five points for his team.
EVENT #2 – ACCURACY SHOOTING
TEAM WHITE SHOOTER

TEAM BLUE SHOOTERS

PLAYER 1
Eric Tangradi
Devin Setoguchi
PLAYER 2
Mark Scheifele
Eric O'Dell
PLAYER 3
Bryan Little
Olli Jokinen
* Fastest four target hits wins five points for his team.
EVENT #3 – PUCK CONTROL RELAY
TEAM WHITE

TEAM BLUE

HEAT #1
Evander Kane
Blake Wheeler
Michael Frolik
Olli Jokinen
Mark Scheifele
Devin Setoguchi
HEAT #2
Adam Pardy
Mark Stuart
Keaton Ellerby
Grant Clitsome
Dustin Byfuglien
Toby Enstrom
HEAD TO HEAD
Bryan Little
Evander Kane
* Winners of each heat get one point.
* Head to head winner gets three points.
EVENT #4 – HARDEST SHOT 
TEAM WHITE
TEAM BLUE
PLAYER 1
Keaton Ellerby
Andrew Ladd
PLAYER 2
Adam Pardy
Jacob Trouba
PLAYER 3
Anthony Peluso
Devin Setoguchi
PLAYER 4
Dustin Byfuglien
Grant Clitsome
* Player with hardest shot wins five points for his team.
EVENT #5 – BREAKAWAY COMPETITION
TEAM WHITE
TEAM BLUE
Mark Scheifele
Blake Wheeler
Anthony Peluso
James Wright
Evander Kane
Devin Setoguchi
Eric Tangradi
Mark Stuart
Keaton Ellerby
Toby Enstrom
Adam Pardy
Jacob Trouba
Chris Thorburn
Grant Clitsome
Michael Frolik
Eric O'Dell
Dustin Byfuglien
Olli Jokinen
Bryan Little
Andrew Ladd
Goalies
Ondrej Pavelec
Al Montoya
* Every player participates.
* One point awarded for every goal and every save.
* Five points awarded to goalie with most saves.