Note:  On today's Illegal Curve Hockey Show on TSN 1290 Winnipeg, we will have non-stop hockey coverage from noon to 3 pm.  Show topics include breaking down the Jets 4-1 loss to the Stars, previewing the Jets and Devils game which takes place tomorrow night and talking about all things NHL.  Guests:  Matt Loughlin (Radio Play-by-Play for Devils).  Andrew Gross (Bergen Record).  Amanda Stein (TSN 690).
Jets news:
Winnipeg Free Press:  Time for talking is over.  Let us hope so.  There is only so many times you can blow smoke before people figure out what you are doing.
Winnipeg Free Press:  A fast start, just not for Jets.  Not sure it qualifies as 'fast' when it begins in the 3rd period and only because the other team doesn't have foot on acceleration pedal.

Winnipeg Free Press:  Skate 'em till they puke.  Coach Noel mentioned how they had divided the season into segments of five and had they won last night they would have indeed finished the first segment victorious.  Instead it was a third loss in a row for this talented yet frustrating team.  If you were coach, what would you do?
Winnipeg Sun:  Streaky Jets at it again.  After two straight wins, which made this team feel invincible, they quickly came back down to earth and have since lost three straight.
Winnipeg Sun:  Noel saw progress — Pavelec saw barrage of beautiful shots.  Pavelec put last night's loss on his shoulders although it would help if his team could prevent some of the rubber being directed his way.
TSN:  Jets dig a hole to Stars and lose third straight.  There was no coming back.  Stars just seemed to know the formula for keeping the Jets off the board.
CBC:  Jets drop third straight game to Dallas, Winnipeg Stars shine.  Jeff looks at pressure on Pav, homegrown talent impresses, Southern bromance and his final thoughts.
IceCaps news:
The Telegram:  Against all odds.  A good read about J.C. Lipon.
Jets next opposition (New Jersey Devils) news:
Star-Ledger:  Next stop on Devils goalie Cory Schneider's reunion tour.  Having not played here since his last game with the Moose, I suspect that Schneider will receive quite the Winnipeg welcome for his past years of service with the Manitoba Moose.
Jets on a Deadline – Stars 4 Jets 1: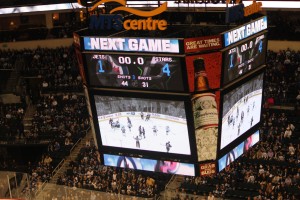 Winnipeg Jets:  Blake Wheeler, Evander Kane, Zach Bogosian, Ondrej Pavelec and Jacob Trouba.
Dallas Stars:  Coach Ruff, Jamie Benn and Tyler Seguin.
Illegal Curve: Coach Noel post-game.  Coach Noel met with the media following his team's 4-1 loss to the Dallas Stars.
Illegal Curve: Post-game podcast from the Press box. Host Drew Mindell and Analyst Richard Pollock break down the Jets play against the Stars.