Note:  On today's Illegal Curve Hockey Show on TSN 1290 Winnipeg, we will have non-stop hockey coverage from noon to 3 pm.  Show topics include breaking down the Jets 5-3 win over the Kings, previewing one of the most anticipated games of the year as Teemu Selanne makes his final appearance at the MTS Centre and talking about all things NHL.  Guest:  John Paddock (Philadelphia Flyers Director of Player Personnel).

Jets news:
– Toby Enstrom wasn't at practice this AM.  Could be nothing.  Will update once Coach Noel speaks today.
Winnipeg Free Press:  Jets off to a flying start.  How many people expected the Jets to start the season with two regulation wins?  While both victories will give coach Noel nightmares, the fact is that the four clean points in the bank are huge.  Especially when this team might not have been in this position previously.

Winnipeg Free Press:  Afterburner.  The numbers indicate the Jets shouldn't be winning these games, yet they continue to do so.  Will this luck hold?
TSN:  Jets win another after giving up first goal.  Dennis breaks down some of the action from last night.
Winnipeg Sun:  Snapshots –  Pass the glow sticks.  At the end of the game someone in the visitor's room asked coach Sutter what did he take away from the past two games and his reply was "two points".  If coach Noel is asked the same thing, he gets to say four points.  That is big.  Sure we are only two games into the season but you cannot discount points in October. Good intros to the home opener with the players walking in through a video screen.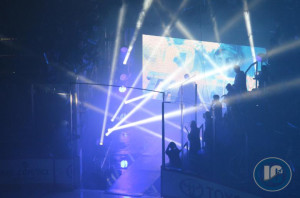 Winnipeg Sun:  Jets play 'the right way' to advance past Kings.  They matched the heavy team and seemed to confound them with their speed in the 2nd and 3rd period.  The 1st seemed to be all L.A. as they heavily outshot Winnipeg.
Winnipeg Sun:  Trouba 'headhunter' in attempted Hall hit.  Neither he nor coach Noel seemed to put much stock in the report.
ESPN:  Don't forget the names Trouba and Scheifele.  Looks like the 2012 and 2011 first round selections for the Jets are garnering attention past the perimeter.
IceCaps news:
The Telegram:  Gordon ready to earn his reward.  You can really learn a lot about the players in the Jets system, as The Telegram is killing it with their IceCaps coverage during training camp.
Jets on a Deadline – Jets 5 Kings 3:

Winnipeg Jets: Andrew Ladd, Evander Kane, Ondrej Pavelec and Olli Jokinen.
LA Kings: Ben Scrivens, Justin Williams and Coach Sutter.
Illegal Curve: Coach Noel post-game.
Illegal Curve: Post-game podcast from the Press box. Host Drew Mindell and Analyst Richard Pollock break down the Jets play against the Kings.