Following a big win, the Jets were back on the ice at the MTS Centre as they put the Kings win in the rear view mirror as they look forward to the Ducks game Sunday night.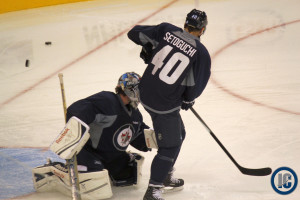 Devin Setoguchi – Teemu talk.  Do most players in the league look up to Selanne?  How does it feel for the team to be 2-0?  Nice to be on the board quickly?
Mark Scheifele – Teemu talk.  Excited for a chance to play against him?  How did he feel about his game last night?  Feeling more confident as games go on?  Chemistry growing on his line.  Has he ever played with this much speed?  Does he change his game to match speed?
Bryan Little – Changing the power play. Impact of special teams on the game. Teemu talk. Pressure on his line.
Audio courtesy of TSN 1290 Winnipeg.