Note: All this month we wanted to bring to your attention the Pass it Forward program which provides help to youth in Winnipeg who wish to play hockey but require aid in getting the necessary equipment. The program is in it's 5th year, they have a website, an active twitter feed @PassItForwardca, and they are giving away a autographed game used stick. Be sure to check it out.
Note II: The first official Winnipeg Jets game kicks off tonight at 6 pm cst on CBC.  While it is an exhibition game, fans are excited to see Group A take to the ice in Belleville, Ontario during Kraft Hockeyville as the Jets take on the Capitals.
Note III:  Due to the Jewish holiday of Yom Kippur the Illegal Curve Hockey Show will not air today.  Tune in next week when the show returns to TSN Radio 1290 from noon to 3 pm cst.
Jets news:
Winnipeg Free Press:  Setoguchi, Frolik raise Jets' skill level.  Frolik is going to be a nice addition with his ability to play on the PK.  You get the sense that he is ready to bring an offensive aspect to the table. While it is early it did seem that Kane and Setoguchi had some chemistry.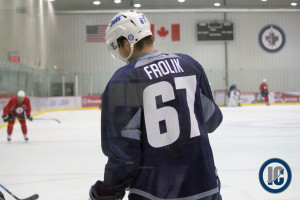 Winnipeg Free Press:  Thorburn the go-to-guy.  A guy like Thorburn has intangibles that matter both on and off the ice.  He is one of the best locker room guys on the team and that relationship and mutual respect with his teammates is pretty clear.
Winnipeg Free Press:  D-man living for the moment.  It was a defining story last season for Redmond.  Now he has to put his focus on beating out the numerous other defencemen competing for a job with the Jets.
NHL.com:  Dobson stunned to see NHL in his hometown.  Nice opportunity for the Jets Director of Pro Scouting gets a chance to return home for the game.
Winnipeg Sun:  Jets looking forward to returning to Belleville.  Eric Tangradi spoke about how playing in Belleville gave him a bit of Canadian in himself as he spent many of his formative years in the town of 30,000.
Winnipeg Sun:  Pardy out to win job with Jets.  Competition is never a bad thing for an organization so the increased level among the defencemen sure won't hurt this team.  I hope he makes the team simply because of the number of times Ezra makes a 'party' joke.
Winnipeg Sun:  Halischuk confident he'll find a home with Jets.  As Olli Jokinen said the other day you don't win with just one line.  The added pressure on the 3rd and 4th lines from the increased competition, similar to the article about regarding defencemen, can only serve to help the Jets in the long term.

Winnipeg Sun:  Noel putting Jets to the test in exhibition game.  The Capitals sound like they are going to have a good squad tonight but the Jets also have some of their better players mixed with a number of rookies.
Winnipeg Sun:  Jets hopes Frolik's Cup experience rubs off.  He brings quite a bit to the table for the Jets and seems particularly pleased to be playing with childhood friend Ondrej Pavelec.
NHL.com:  Canadian teams to be honoured with stamps.  Perhaps the Winnipeg Philatelic Society can let us know if these stamps will have any value.
Illegal Curve:  A look at the Winnipeg Jets 2013 Training Camp Groups.  Some have been asking for a breakdown of the three groups that the Winnipeg Jets have had over the past couple of days.
Illegal Curve:  Coach Claude Noel training camp Day 2 scrum.  Opening comments.  Making evaluations at training camp.  Does he like what he has?  Additions of Setoguchi & Frolik.  Players with Cup experience and what they bring to the group.  How can you determine fair amount of play based on number of players at camp?  Injury to Adam Lowry (day-to-day with Upper Body Injury).  Capitals bringing an 'A' team including Ovechkin to Belleville.  What is his philosophy on star players being hit at camp?  Depth created by Setoguchi and Frolik.  Plethora of defencemen at camp.
Illegal Curve:  Winnipeg Jets audio from the IcePlex.  Listen to Michael Frolik, Ian White, Olli Jokinen, Matt Hallischuk and Eric Tangradi.
NHL news:
St. Louis Post-Dispatch:  Pietrangelo signs seven-year extension.  From no deal to a seven year deal in just a couple of days.