The Jets lost a close one to the Capitals as they kicked off the 1st exhibition game of the season.  Listen to coach Noel's post-game thoughts.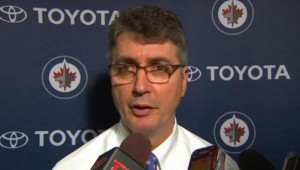 Coach Noel – Thoughts on tonight's game.  Play of Pasquale.  First impression of Kane-Scheifele-Setoguchi.  Did bigger ice surface help out that line?  Composure of Morrissey.  Impact of the shallower goals.  What are the biggest takeaways from this game?  Update on Thorburn (Upper body).
Audio courtesy of TSN Radio 1290.