CBC:  Jets' Fehr brings it back home.  Would be quite exciting for Fehr if he is healthy enough to play against his boyhood idol when Teemu and the Ducks come to town on December 17th.
Winnipeg Free Press:  Kane man of the match, but he gushes over fans.  Jets fans probably liked what they saw last night from the Vancouver product.  No roster cuts until after Friday's game against the Predators.
Winnipeg Free Press:  Aebischer odd man out between pipes?  Maybe.  Has he shown enough to be signed by another NHL team if the Jets don't choose to pick him up after training camp?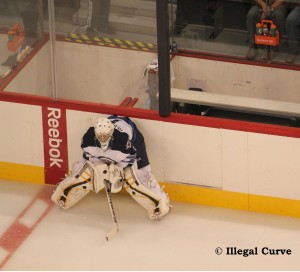 Winnipeg Free Press:  Looks like scoring's a problem here.  While the Jets will definitely need their forwards to step it up, this team was led offensively by their defence last season.  Many will see see Mark Scheifele as the answer to the Jets scoring woes but at this point it's still not guaranteed that he will be starting with the club this season.
Uptown:  The redemption of our city.  Count me as someone who is eager to watch this documentary.
Winnipeg Sun:  Intense battle for defence.  After watching last night's game did any of the D-men that are battling for the 6th and 7th spot jump out at you?
Winnipeg Sun:  Can Scheifele make it?  Skinner says 'Why not'.  Jets fans are hoping the 2011 7th overall pick follows the same Calder trophy winning route that the 2010 7th overall pick achieved.
Winnipeg Sun: Chipman a proud papa.  The fans decided that stressing "True North" in the anthem would be a nice homage to the organization that brought NHL hockey back to this city.
Winnipeg Sun:  No place like NHL for Finnish winger.  Has he done enough to grab Coach Noel's attention?
Globe and Mail:  Shot-shy Jets squeeze by Canes.  Could moving Big Buff up front be the answer to the Jets scoring woes?
TSN:  Kane, Wheeler help power Jets past Hurricanes.  The Canes didn't have all their 'A' players so it's difficult to get overly excited at this win although nice to see the Jets are undefeated at home
IceCaps News:
The Telegram:  Far from home, but far from wary.  Sounds like he is looking at this in a manner of what it can do for his career.