Jets news:
Winnipeg Free Press:  'Big Three' will keep Chevy busy this week.  The heavy lifting begins this week for the Jets GM and his staff as they attempt to get deals done with some critical members of this squad.  First up is Bryan Little who will go to arbitration on Wednesday if a deal isn't done.  For an idea as to where each negotiation might end up, Richard has done analysis on each player.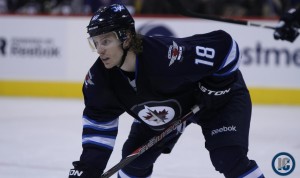 Winnipeg Sun:  Redmond ready to turn page.  While his recovery was remarkable, he will still have something to prove this upcoming season.
Hockey's Future:  Winnipeg Jets 2013 draft review.  An in-depth look at the players the Jets procured at the 2013 NHL Entry Draft.
NHL news:
NHL.com:  Gagner, Oilers agree on three-year deal. They met a bit higher than in the middle (at 4.8 million) but it sounds like both got what they wanted and were able to get a deal done before today's arbitration hearing.
Globe and Mail:  Babcock expected to be back behind the bench for Canada in Sochi.  When we saw him last month in NYC he was reppin some Team Canada gear and as one of the best coaches in the game today he is a natural choice for this position to defend the Gold medal he won in Vancouver in 2010.
Illegal Curve Hockey Replay:

.
Part 1: Jets sign Paul Postma and Eric Tangradi, avoid arbitration with both. NHL Releases 2013-14 Schedule. Kings sign Dustin Brown to an 8 year contract. Breaking news: Winnipeg Jets agree to terms with Zach Redmond. New York Islanders sign Josh Bailey and Thomas Hickey.
Part 2: Mock Arbitration Case: Bryan Little. Mock Arbitration Case: Zach Bogosian. Mock Arbitration Case – Blake Wheeler. Rob Blake hired as Assistant GM in Los Angeles, Ron Hextall hired as Assistant GM in Philadelphia.