Jets news:
Winnipeg Free Press:  Jets sign defenceman Kulda.  Lots of D men with the Jets once Enstrom gets healthy.  Enstrom, Byfuglien, Hainsey, Stuart, Bogosian, Clitsome, Postma, Meech and Kulda.  Only Derek Meech is on a two-way contract.
Winnipeg Free Press:  Pop goes the Jets' points streak.  It had to end sometime and Sunday at the end of a four games in six days it was clear that the gas had gone out of this balloon.
Winnipeg Free Press:  Put Burmi in, see if he learned anything.  It is easier said than done.  While I thought they might inject him into Sunday's lineup to alleviate some exhaustion, it is difficult to fix what ain't broke, as they say.  Now that the team has lost, coach Noel can tinker with his lineup to get the enigmatic young gun back into the game.

Winnipeg Free Press:  Jets won't use tired excuses.  While they may not want to use them coach Noel did acknowledge that as a result of his shortening of the bench the team had likely less in the tank than they may have if he had been rolling four lines.
CBC:  Playoff potential heightens trade deadline decisions.  Long term vision versus short term gains.  Hard to argue that the Jets should trade players when they currently sit 3rd in the Eastern Conference.  If they go on a winning or point streak over next couple of weeks they will likely solidify this position.  How then can you trade away players to acquire assets for your long term success.  It is the ultimate conundrum for the Jets brass.
TSN:  Stumbling on road in Ottawa.  It was inevitable that the Jets would lose eventually and while they have played extremely well during the past few weeks, they just didn't have it against the shorthanded Senators.
Winnipeg Sun:  Out of fuel.  Seems shocking that the best chances the Jets had were when they were shorthanded.  Sometimes hockey is a game of luck and if that puck lies flat for Evander Kane on that shorthanded breakaway, the game could have been very different.  Credit captain Andrew Ladd for making no excuses about not being able to match the Senators energy level to start the game.
Winnipeg Sun:  Jets changed the recipe against Ottawa & got burned.  A number of streaks came to a crashing halt on Sunday at the hands of the Senators.  Ted also discusses missed opportunities, mental fatigue, terrific opportunity to make playoffs, Burmistrov in the (press)box, getting 4th line more involved, ownership groups desire to win, strong play of Pavelec, penalties both deserved and undeserved, impressive Senators, Kane predictable, getting Montoya healthy and home stretch.
Winnipeg Sun:  Penalty-kill run comes to an end against Ottawa Senators.  As coach Noel pointed out following the game, both Senators goals on the power play were extremely difficult to score but were executed to perfection by Ottawa.   It is important to look at what led to the Thorburn penalty in the first place.  Mark Stuart had control of the puck with no Sens pressure, Cormier circled back into the zone to give him an outlet but was unable to handle an easy pass and this led to the Jets defensive zone turnover.  Ottawa had a ton of pressure and Thorburn takes the penalty.  It is these types of mental errors, more than anything, that the Jets need to clean up.  Give the Jets credit as they had killed off 29 straight penalties over 11 games before giving up two in yesterday's contest.
Illegal Curve:  Jets on a Deadline – Senators 4 Jets 1.  Game recaps, post-game quotes from coach and players, video highlights and the NHL.com 3 Stars of the night.

NHL news:
Globe and Mail:  No visors? The ayes have it, for now in NHL.  Considering that AHL and Junior age players are mandated to wear visors and that 65% to 73% of NHL players are wearing them, you would think it would be easy to mandate it.  If you are so inclined you could do what was done with helmets, grandfather players currently not wearing a visor and then all new players in the NHL would have to wear them.
Boston Herald:  Krejci banged up in Bruins' 2-1 loss to Penguins.  The two high powered teams went at it on Sunday with Pittsburgh winning their ninth game in a row.  Jets fans will be interested to see what happens to David Krejci as Boston comes in to play Winnipeg on Tuesday.
Winnipeg Free Press:  Middle East peace on the ice.  We had the coach of Canada Israel Hockey Mike Mazeika on the show on Saturday (replay below) and here are some comments from the kids who participated in this worthwhile project.
Illegal Curve Hockey Show Replay: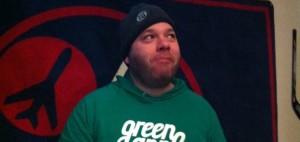 Part 1:  Winnipeg Jets week in review.  Jets vs. Leafs preview.  Jets vs. Senators preview.  The benching of Alex Burmistrov and other lineup changes.  Interview with Michael Traikos of the National Post.  Eastern Conference Playoff Preview.
Part 2:  Interview with Mike Heika of the Dallas Morning News.  Winnipeg Jets week ahead, Western Conference playoff preview.  Interview with Mike Mazeika, Head Coach of the Canada-Israel Hockey School.  NHL Trade Deadline preview.  NHL News & Notes.  Rapid Fire, Cheers & Jeers.