Note:  Tune into the NHL Mid-Week Show on TSN Radio 1290 tonight from 6 pm to 8 pm as the guys discuss all the latest NHL news.  Guests:  Mike Greenlay (Minnesota Wild, Color Analyst), PJ Stock (CBC).  
Jets news:


Winnipeg Free Press:  Home is sweet again for Jets.  How could you not be with a crowd like that?   From the "Let's go Blue Jays" to "Go Jets Go" to the wave, it was an animated crowd that was easily a seventh and eight man/woman for the Jets.
Winnipeg Free Press:   Thorburn's scrap lifts his team's intensity.  He answered the call when asked to dance and revved up his team, despite a move by Orr who acted like scrap was over by pushing off and then went back for another punch.  After sitting for a number of games, Thorburn lifted his team's spirits in an intangible way.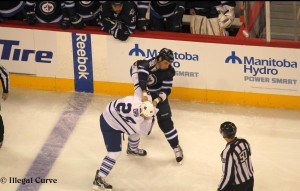 Winnipeg Free Press: Long and winding road brings Meech home.  But what a game to finally get into a home game for.  Meech is finally healthy enough to start contributing and the Jets are making use of his veteran experience.
Winnipeg Free Press:  Spotlight on Andrew Ladd.  Another complete game from the Jets captain who was everything a captain should be on the ice yesterday.  According to Hockeyfights.com, his scrap with Phaneuf was the first time those two had fought since January 25th, 2005 in Junior.  Also according to hockeyfights.com, Phaneuf was judged the winner of the fight by 77.1% of voters and while he may have won the battle, captain Ladd lead his team to victory in the war.
CBC:  All-out effort nets convincing win.  Now the most important thing this team can do is follow-up this game with another big game against a surly New York Rangers team who lost last night in Buffalo.
TSN:  Jets have best home game of year in win over Leafs.  From top to bottom the Jets played their most complete 60 minute home game of the season last night.  Nice return to the lineup for Chris Thorburn whose fight with Colton Orr seemed to spark his squad.  The play of Kyle Wellwood helped the Jets with this all important victory including this goal captured by @mremis.  Follow us on instagram – illegalcurve.

Winnipeg Sun: Ladd leads Jets by example.  And what an example it was.  He proved last night why he wears the 'C'.  Paul also covers a team meeting, putting the special back in special teams, getting the home crowd into the game and Wright continues to be snake bit.
Winnipeg Sun:  Alex Burmistrov in coach Noel's doghouse.  Sometimes it isn't a bad thing for a player to watch a game or two from up above.  Just look at how Kyle Wellwood has responded after sitting for four straight.
Jets on a Deadline – Jets 5 Leafs 2:
Winnipeg Jets: Andrew Ladd, Evander Kane, Ondrej Pavelec and Blake Wheeler.
Toronto Maple Leafs: Coach Carlyle and James Reimer.
Illegal Curve Post-game podcast from the Press box: Host Drew Mindell and Analyst Richard Pollock break down the Jets play against the Leafs.
Jets on a Deadline: Game recaps, post-game audio, video highlights and the NHL.com 3 Stars of the night.
NHL news:
New York Times: Lackluster loss puts an end to Tortorella's era of good feeling.  And even worse for the New York bench boss, @ICEzzyG is warming up his vocals in anticipation of the coach's Q & A on Thursday.
TSN:  Maple Leafs D Gardiner's agent tweets about client's status.  The tweet caused waves at the MTS Centre yesterday.