Note:  Make sure to @ tweet @illegalcurve with your guess in our contest.  During tonight's game you can win IC Gear by participating in our twitter Game Winning Goal contest. Remember that for your vote to qualify you must send in your guess by hashtaging (#) the Game Winning Goal (GWG) contest. (i.e. #ICGWG Tangradi).
Note II:  Tune into the Illegal Curve Hockey Show on TSN Radio 1290 as the guys discuss all the latest Winnipeg Jets and NHL news returning to the regular time of noon to 3 pm on Saturday.  Guests:  George Johnson (Calgary Herald), Andrew Gross (The Record) and Earl Skakel (comedian).
Jets news:
TSN:  Friday's trade rumours.  Nik Antropov's name mentioned in the Rent-a-player Market.
CBC:  Finally, Jets get a win under the sun.  Going a perfect 5/5 on the penalty kill, especially killing the 5 on 3 helped secure last night's victory.
Winnipeg Free Press:  Right approach, right results.   The Jets played a better game last night although coach Noel will still see room for improvement. 
Winnipeg Free Press:  Montoya near-perfect in tough gig as he must be.  Pretty impressive to have had almost a month off (he last played February 12th against the Flyers) and to play as well as he has.  Provided he can remain healthy the Jets have quite the tender.
Winnipeg Free Press:  Buff breaks his silence.  Sadly he lost his grandfather earlier this week, which was the reason he had to go to Minnesota before the first Panthers game, rather than travel with the team.
Winnipeg Sun:  No quit this night.  The Jets got a clean win and that was important but they are still making a lot of mistakes that better teams will capitalize on.  One of the most important is eliminating costly defensive zone turnovers (especially when there is little to no pressure).
Winnipeg Sun:  Tangradi nets his first.  Good to see the Jets winger pot his first goal as a member of the squad.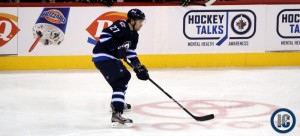 Winnipeg Sun:  A win and is he back in?  Seems unlikely that coach Noel will throw Al Montoya back between the pipes but stranger things have happened.  Ted talks about other aspects of the game including Wellwood's play, Hainsey's giveaways, Slater's slash, Jets are road warriors, paging Nik Antropov, special teams play, defensive lapses, lack of scoring and more.
Illegal Curve:  Jets on a Deadline – Jets 2 Lighting 1.  Game recaps, post-game quotes, video highlights and the NHL.com 3 Stars of the night.
Illegal Curve:  NHLPA approves realignment, Jets to Midwest.  Will be interesting to see where this goes especially considering the possibility of relocation.  This is probably why the NHLPA said that it can "be re-evaluated following the 2014-15 season".
Jets affiliate and prospect news:
St. John's IceCaps site:  Turn an old cell phone into a jersey with 'Turn back the Tide'.  A good promo by the Jets farm club.
Yahoo Canada:  Barrie Colts' Mark Scheifele sets up Saturday duel with Bulls.  He finished as 1st star of the night for his two goals and one assist performance as he led his Colts to victory.
Next opponent (Panthers) news:
Sun-Sentinel:  Markstrom, Panthers get pounded 7-1 by Caps.  Unlike on Tuesday when Markstrom was able to stymie the Jets he and the Panthers got destroyed by division rival Washington last night.
Miami Herald:  Stephen Weiss says pain was so severe he wasn't helping himself or team.  Sounds like he was in considerable pain.
NHL news:
Winnipeg Free Press:  The hot ticket in Tampa.  Hopefully fans in Tampa continue to reward the good ownership group they have down there.
CBC:  Teams ready to embrace advanced statistics.  As always Friedman pens a column well worth reading.
Toronto Sun:  NHLPA not keen on mandatory visors.  If 73% of players already wear them and it is mandatory in the AHL and Junior leagues you wouldn't think it would be difficult to implement.  Should the NHL and NHLPA work together to make this mandatory?
Globe and Mail:  Does fighting belong in hockey?  Globe readers sound off on whether this aspect of hockey belongs in the game anymore.
Philadelphia Inquirer:  Flyer Chris Pronger battles depression while injured.  Doesn't matter how big a player is head trauma can affect anyone.  Pronger sheds light on what he has been dealing with since the injury that took him out of the game.