Note: Make sure to @ tweet @illegalcurve with your guess in our contests.  During tonight's game you can win IC Gear by participating in our twitter 50/50 and Game Winning Goal contests. Remember that for your vote to qualify you must send in your guess by hashtaging (#) our 50/50 contest or the Game Winning Goal (GWG) contest. (i.e. #IC5050 $42,750 or #ICGWG Kane).
Jets news:
Winnipeg Free Press:   For 3-5-0 Jets, home is where the hard is.   Who would have believed that this team would have trouble at the rambunctious MTS Centre?

Winnipeg Free Press:  Montoya ready, Pasquale sent back.  Pasquale probably would have liked to have seen some actual game action but probably enjoyed the NHL experience nonetheless.  Good news about Enstrom, although who knows what week-to-week actually means.
Winnipeg Free Press:  Full speed ahead.  Ed makes a very valid point and it is the type of potential over-hype that coach Noel is guarding against.  For the Jets to really show they have 'turned a corner' they will need to do well over the course of this two game mini home stand and then continue that success on the three game road trip to Florida.
Winnipeg Free Press:  Candidate Kane.  Gotta love that the 2014 Olympics, that the NHL may or may not be participating in, are already a focus of hockey mad Canada.  Looking at those other potential 13th forwards, it wouldn't be an easy feat to supplant one of them.  What do you think?  Do Evander Kane and Andrew Ladd deserve to be on the team? 

Winnipeg Sun:  Jets have faith in each other.   You cannot get very far if you don't believe in yourself or your teammates.  Kudos to Paul Friesen on this biblical article which ends with the reference to the Devils.  Sensational column.
Winnipeg Sun:  Tough guy Peluso produces big bang for Jets in Big Apple.  He continues to earn the trust of his coach and has gone from the press box to the 3rd line.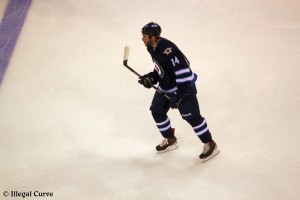 Globe and Mail:  After successful road trip, Jets look to avoid letdown at MTS Centre.  Having lost four straight games at home caused fans to question the advantage of the MTS Centre crowd.
Hockey's Future:  Hellebuyck makes easy adjustment to NCAA.  If you want to know about the Jets goaltending prospect, here is some info.
Illegal Curve:  Coach Noel off day audio.  The Jets players had the day off yesterday following their five games in nine day road trip.  Coach Noel met with the media to discuss this trip as well as the upcoming home stand.
Jets opponent (New Jersey Devils) news:
Star-Ledger:  Kid from Manitoba becomes respected captain.  A nice Manitoba success story.  I'm sure he will have a lot of friends and family in the crowd to see the Brandon product lead his Devils into the MTS Centre.
The Record:  Devils having poor encore after last season's successes.  The Devils will be looking to turn things around tonight although with future Hall of Famer Marty Brodeur on the IR, that becomes a much taller task.
NHL news:
USA Today:  See Ilya Bryzgalov's impressive new goalie mask.  Star Wars fans are apparently not happy that Yoda's lightsaber is red and not green.
Vancouver Sun:  Ryan Kesler out indefinitely with broken foot.  What terrible luck for the Canucks star who missed the first 12 games of the season as he recovered from off season surgery.
The Province:  Manny Malhotra doesn't agree with Mike Gillis decision but also doesn't "question his sincerity one bit".  Malhotra shows a lot of class as he attempts to live with the decision made by Canucks GM Mike Gillis.
CBC:  Name the proposed new NHL divisions.  Immediately the Smythe Division springs to my mind.  I would also be ok to modernize these to reflect more recent legends like Gretzky, Lemieux, Orr and Howe.  What would you like to see?
NHL Mid-Week with Illegal Curve Replay:

Replay:  Proposed NHL realignment.  Montreal acquires Michael Ryder and a 3rd round pick from Dallas in exchange for Erik Cole.  Interview with Brad Treliving, Vice President of Hockey Operations & Assistant General Manager of the Phoenix Coyotes.  Break it Down, Washington Capitals Power Play.  Six Things We Learned This Week.  Interview with Dan Wood, Anaheim Ducks Colour Analyst on 830 KLAA.  Prospect Pulse with Illegal Curve Scouting Correspondent Kyle Kosior.  Over/Under, Keep Your Eye On.